Trump wants Ukrainians and Russians to 'stop dying'
The former president also argued that US arms shipments to Kiev have left the Pentagon short on munitions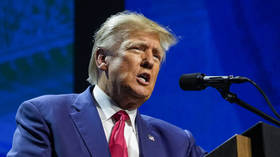 Former US President Donald Trump has refused to say whether he favors a particular side in the Russia-Ukraine conflict, stating he would rather focus on ending the bloodshed altogether. Speaking during a CNN 'town hall' in New Hampshire on Wednesday, Trump also insisted that Washington was giving too much ammunition to Kiev.
Asked by CNN's Kaitlan Collins if he wants "Ukraine to win this war," Trump, who is campaigning for a second term in office, replied: "I don't think in terms of winning and losing."
"I think in terms of getting it settled so we stop killing all these people and breaking down this country," the former president said.
When pressed by Collins on the matter, Trump added: "They are dying, Russians and Ukrainians. I want them to stop dying."
He criticized the amount of military aid provided to Kiev by the Pentagon. "We don't have ammunition for ourselves [and yet] we're giving away so much," he said. Trump also said he wanted Europe to "put up more money" for Ukraine and "equalize" its financial assistance compared to aid provided by Washington.
Trump insisted that he would "have that war settled in one day" if he was president, promising to meet with presidents Vladimir Putin of Russia and Vladimir Zelensky of Ukraine if he gets elected in 2024.
You can share this story on social media: