French oppositon leader Le Pen faces criminal trial
The right wing politician should face trial for allegedly embezzling EU money, prosecutors have claimed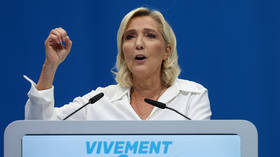 French prosecutors have recommended putting conservative ex-presidential candidate Marine Le Pen on trial over alleged embezzlement of EU funds, the state-funded AFP news agency reported on Saturday. Authorities have also launched cases against 26 other National Rally (RN) party members.
Prosecutors allege that, between 2004 to 2016, money allocated to cover the expenses of European Parliament members was used to pay for assistants who, in reality, worked for RN, known until 2018 as National Front (FN).
Le Pen's father and party co-founder, Jean-Marie Le Pen, was also implicated in the scheme. Overall, 11 MEPs, 12 parliamentary assistants and four other staffers have been referred to trial.
If convicted, Le Pen could face up to 10 years in prison and a ban on holding public office for the same period, according to AFP.
The European Anti-Fraud Office reported in 2016 that Le Pen owed €339,000 ($361,000). According to her lawyer, Rodolphe Bosselut, the politician paid back almost €330,000 in July. The payment, however, "does not in any way constitute explicit or implicit recognition of the European Parliament's claims," Bosselut said, as quoted by AFP.
Le Pen has denied any wrongdoing, arguing that the allegations against her were politically motivated. The party released a statement on Friday, saying that the accusations stemmed from "an erroneous understanding of the work of opposition lawmakers and their assistants."
Le Pen came second during presidential elections in 2017 and 2022, losing to Emmanuel Macron. She stepped down as party president last year, but continues to lead the RN group in the French National Assembly.
You can share this story on social media: