Hundreds of UK tanks could contain asbestos – London
Asbestos could be present in almost 2,700 tanks and armored vehicles owned by the UK military, The Times has reported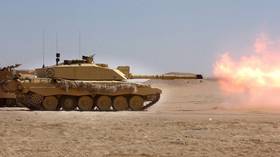 Challenger 2 tanks and many other vehicles in possession of the British Army could contain asbestos, a hazardous material that can cause irreversible lung damage, The Times has reported, citing the UK Defense Procurement Minister James Cartlidge.
Asbestos-containing materials (ACMs) might be present in 2,699 pieces of the UK's military hardware, some of which have been supplied to Ukraine, the paper revealed on Thursday after reviewing Cartlidge's letter to the Labour Party.
The potentially compromised vehicles include 324 Challenger 2 tanks, 765 Bulldog armored personnel carriers, 75 Challenger armored repair and recovery vehicles, 11 Fuchs armored vehicles, 14 Gazelle reconnaissance helicopters, 31 high mobility trailers, 841 Pinzgauer 4x4s, 64 Stormer armored vehicles, 540 Warrior infantry fighting vehicles, and 34 Wildcat helicopters, the letter said.
Some of this hardware, such as Challenger 2s, Bulldogs, and Stormers, has been supplied by Britain to Ukraine amid the conflict with Russia.
The list covers the entire stock of equipment that could contain asbestos, with a "much lower" number of those vehicles being operated by the military at the moment, The Times clarified.
Asbestos is a naturally occurring material which had been used in the production of tanks, planes, and ships throughout the 20th century. It poses a health risk because the compound breaks down into small fibers that can seriously injure peoples' lungs with prolonged exposure.
The hazardous material is associated with several forms of lung cancer, severe scarring of the lungs (known as Asbestosis), pleural thickening, and other diseases. The complications from contact with asbestos can occur years after the exposure.
"The scale of asbestos in British Army equipment is a serious concern," Shadow Defense Secretary John Healey told The Times. The Labour MP claimed that "our armed forces are forced to rely on aging and asbestos-riddled equipment" because of the shortcomings of the ruling Conservative Party, which he claimed has failed to fix the UK's defense procurement system.
A British Defense Ministry spokesman assured the paper that "plans are underway to eliminate asbestos in our equipment as soon as possible, with risk assessments undertaken to keep our people safe." He said that much of the equipment mentioned in Cartlidge's letter has already been out of service, proven to be safe, or had asbestos-containing materials replaced.
Kiev received 14 Challenger 2 main battle talks from the UK, with the vehicles being first spotted on the frontline in early September. According to Russian reports, two Challenger 2s have already been destroyed, while London has confirmed the loss of one.
You can share this story on social media: