Ukraine to get first US tank deliveries next week – Biden
The US president also announced a new aid package to Kiev, but it didn't include long-range ATACMS missiles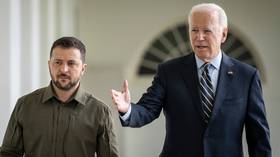 US President Joe Biden announced that the first American Abrams M1 tanks would reach Ukraine within days as he met with his Ukrainian counterpart, Vladimir Zelensky, at the White House.
"Next week, the first US Abrams tanks will be delivered in Ukraine," Biden promised after the talks on Thursday.
The US leader said he had also "approved the next tranche of security assistance" for Kiev.
The Pentagon later valued the package at $325 million, saying it includes air defenses, ammunition for HIMARS multiple rocket launchers, anti-tank weapons, and artillery rounds.
The long-range ATACMS missiles, which Kiev had been requesting from Washington for months, have been absent from the new round of military aid.
Biden insisted that the US support for Ukraine is about "the future of freedom," which "America can never, will never walk away from." He also assured Zelensky that "we're with you. And we're staying with you."
The Ukrainian leader thanked Biden and the American people for all their help amid the conflict with Russia, saying that the new aid package was "exactly what our soldiers need."
In January, the US pledged to provide Kiev with 31 Abrams M1 battle tanks. These tanks will be of the older M1A1 variant, which lacks some of the more advanced technologies. Washington will also send 120mm armor-piercing depleted uranium rounds to Kiev together with the tanks. Some studies link the controversial munitions to cancer, congenital disabilities, and other health problems among the population in areas where such shells have been used.
The 70-ton Abrams M1s will be arriving in Ukraine almost four months after the launch of Kiev's counteroffensive and ahead of the region's mud season, which could seriously complicate any offensive operations. Last week, Gen. Mark Milley, chairman of the US Joint Chiefs of Staff, told the BBC that Ukraine had "about 30 to 45 days' worth of fighting weather left."
Kiev's forces have been using German-made Leopard 2 tanks and US-made Bradley fighting vehicles since the start of the counteroffensive, losing several dozen of those vehicles. British Challenger 2s have also been spotted on the frontline in early September. At least two of those tanks have reportedly been destroyed by Russian forces, and London has confirmed the loss of one.
Despite using Western hardware, Ukraine has been unable to achieve its declared objective of splitting the Russian front in two in Zaporozhye Region. During its counteroffensive, Kiev has only managed to capture a handful of small villages some distance away from the main Russian defense lines. Russian President Vladimir Putin said last week that the Ukrainian military has lost more than 71,000 troops and over 540 tanks since the beginning of summer.
You can share this story on social media: