Kiev has 'nothing to show' for all the money spent – US senator
Josh Hawley said Washington must stop writing checks for Ukraine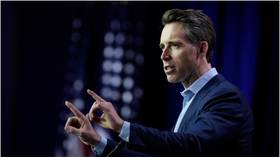 The US should not endlessly pour money into Ukraine, as Kiev has "nothing to show for it," Senator Josh Hawley has argued, following President Joe Biden's request for additional funds.
"If there's some path to victory in Ukraine, I didn't hear it today. And I also heard that there's going to be no end to the funding requests," Hawley, a Republican from Missouri, told reporters following a closed-door Senate briefing on the situation in Ukraine on Wednesday. "What we were basically told is 'Buckle up and get out your checkbook.'"
"It's American people's money. They've spent $115 billion, and, so far, they have basically nothing to show for it," the senator said, arguing that Germany and other European allies should "step up to the plate" in terms of aiding Kiev in its conflict with Russia.
Take out Ukraine, insert Iraq or Afghanistan, and you would get exactly what George W. Bush said for years – and other people after him – about why we have to stay indefinitely in those countries and keep spending money indefinitely, with no oversight… It's the same recycled argument.
Speaking to Fox News on Thursday, Hawley reiterated his position that the US "shouldn't be spending a dime more on Ukraine," and called for an audit of the funds already sent to Kiev.
Biden, who met with Ukrainian President Vladimir Zelensky in the White House on Thursday, has been asking Congress to provide an additional $24 billion in aid. "I'm counting on the good judgment of the United States Congress," Biden said.
White House spokesman John Kirby previously urged legislators not to block the funding, warning that it was "really a critical time" to help Kiev.
US officials have vowed to support Ukraine for "as long as it takes." However, Kiev's much-anticipated counteroffensive launched in early June has failed to yield any significant victories, as Ukrainian troops struggle to break through fortified Russian positions and thick minefields. The events on the ground have prompted NATO chief Jens Stoltenberg to advise Ukraine's supporters to brace for a prolonged conflict.
You can share this story on social media: