Second British-made Challenger 2 tank destroyed in Ukraine – RIA
Russian troops have "declared open season" on the vehicle, a local civic leader has said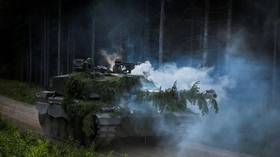 Russian forces have reportedly destroyed a second Challenger 2 main battle tank out of the 14 that London has supplied to Kiev, RIA Novosti reported on Saturday, citing a local civic leader from Zaporozhye Region.
The tank was supposedly rendered inoperable after it took just one hit from a Russian Kornet missile, Vladimir Rogov, the leader of the 'We are together with Russia' movement, told the agency.
"The British tanks have seen open season declared on them," Rogov said, adding that the second tank was destroyed by Russian airborne troops. The weapons supplied by the UK "burn just as well as any other Western equipment," Rogov stated. The activist did not name his sources for the information.
Neither Kiev nor Moscow have officially commented on the reported development so far. London, which confirmed the destruction of the first Challenger 2 tank in Ukraine earlier this week, did not provide any comments either.
The first British-made tank was also reportedly hit by a Russian Kornet missile. The Kornet system is a man-portable anti-tank guided missile which can also be mounted on a vehicle. Some of its modifications are capable of destroying main battle tanks and other armored vehicles equipped with explosive reactive armor at a distance of up to 10km.
On Wednesday, a video of the first Challenger 2 tank supposedly being struck by a Kornet missile surfaced on social media. The tank completely burned out as a result of the hit, the footage indicates.
At the time, UK Defense Secretary Grant Shapps said "there can be material losses" in a conflict zone, and London "accepts that." He also told journalists that the UK does not plan to send additional tanks to Kiev to replace the losses.
The UK sent 14 Challenger 2 tanks to Ukraine earlier this year as part of a massive Western military assistance effort, which mostly included German-made Leopard 2 tanks. The supplies were intended for the much-touted Ukrainian counteroffensive that was eventually launched in early June.
Since then, Ukrainian troops have not made any significant gains along the front lines, while suffering heavy losses both in personnel and equipment. As of September 5, 2023, Kiev lost around 66,000 troops and 7,600 pieces of heavy weaponry in its summer operation, according to Russian Defense Minister Sergey Shoigu.
You can share this story on social media: