Germany stops taking in migrants from Italy – Die Welt
Interior Ministry officials reportedly cited Rome's refusal to abide by the Dublin Regulation as a reason for the move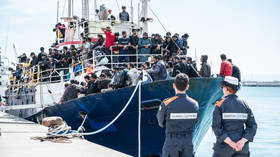 Germany has suspended "until further notice" the practice of admitting migrants arriving via Italy, Die Welt has reported. The newspaper, citing Interior Ministry representatives, said the decision was made due to "high migrant pressure" and took effect in late August.
In its report on Wednesday, Die Welt quoted officials as saying that the "voluntary solidarity mechanism" has been put on hold because Italy has consistently refused to honor the Dublin Regulation. The rule stipulates that an asylum seeker's application should be processed by the first participating country the asylum seeker arrives in. Should the person apply for "protection in another Dublin country, he or she will be sent back" to the nation of entry.
According to Die Welt, in December of last year Rome notified other EU member states that it was canceling "for a limited period of time" migrant transfers back to Italy due to "suddenly arising technical" issues related to the country's intake capacity. Despite the wording, this suspension has been in place ever since, the media outlet pointed out.
The article explained that the "voluntary solidarity mechanism" was created by Germany and France last June with the aim of temporarily redistributing across EU member states 10,000 asylum seekers, who had arrived in Italy and other EU countries. The idea was to take some of the pressure off those nations.
The German government has been trying for some time to put an end to the practice of migrants crossing into its territory from other safe countries, the article explained.
At present, asylum seekers who have already been registered in another country, but then moved to Germany, become the responsibility of Berlin unless the country of entry agrees to readmit the person under the Dublin Regulation within six months.
Meanwhile, Italy's Interior Ministry reported last month that some 89,158 illegal migrants had arrived in small boats by crossing the Mediterranean Sea since the start of the year– an increase of 115% compared to the same period of 2022.
Rome declared a state of emergency in April due to the uptick in new arrivals, which has seen Italy's main migrant processing center on the island of Lampedusa become overwhelmed.
While Prime Minister Giorgia Meloni's right-wing government has taken a number of measures aimed at curbing illegal migration, they have largely failed to stem the influx so far.
You can share this story on social media: