EU migration system 'has been broken for years' – Austria
Chancellor Karl Nehammer has called for urgent action amid a sharp uptick in the number of asylum seekers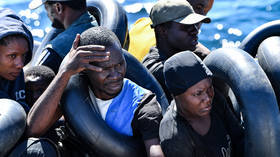 The EU must urgently fix its dysfunctional asylum system to prevent a repeat of the 2015 migration crisis, Austrian Chancellor Karl Nehammer declared in an interview published on Saturday. He warned that a new wave of uncontrolled movement could potentially lead to the collapse of the entire bloc.
Speaking to Welt am Sonntag, Nehammer railed against current EU regulations, claiming that the bloc's "asylum system has been broken for years," and called for immediate action. He admitted that while European policymakers have finally got "more sense of reality" and had started discussing migration, "the road is far from over."
According to the chancellor, migration is among the most serious issues that must be addressed by the bloc, "as irregular migration can be an issue that can divide and possibly even destroy the European Union."
To solve the problem, Nehammer proposed a list of changes, including the creation of effective border protection, rapid asylum procedures both at the EU's external borders and in third countries, and concluding agreements with other nations allowing for the rapid deportation of migrants.
He also strongly opposed an initiative supported by Germany and the EU Parliament that would exempt women with children from new regulations, branding it "impractical and ultimately counterproductive." According to Nehammer, such an exemption would result in women and children being sent off by their relatives "on the dangerous journey across the Mediterranean and helplessly handed over to unscrupulous traffickers."
"Such a derogation would be practically an invitation for women with children to risk illegal migration to Europe – and, if protection is granted, to bring the entire family to join them," Nehammer told the German newspaper.
The bloc saw a sharp increase in asylum applications between June 2022 and May 2023, according to EU data. The number is approaching the record levels of the 2015 crisis, when some 1.3 million migrants sought refuge in the EU. In 2022 alone, the number of asylum applications to the bloc hit almost one million, with most coming from Syria, Afghanistan, and Türkiye.
Furthermore, EU members' social welfare systems remain under severe pressure from an influx of refugees who fled to the EU from Ukraine.
You can share this story on social media: