Illegal immigration to Italy surges under right-wing coalition
The Italian prime minister ran on a populist platform that included a crackdown on migration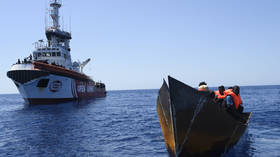 Illegal immigration to Italy by boat has more than doubled since last year despite a purported crackdown by Prime Minister Giorgia Meloni, according to figures released by the Interior Ministry on Tuesday.
Since the beginning of the year, 89,158 illegal migrants have crossed the Mediterranean Sea to arrive in Italy, an increase of 115% over the 41,435 who made the crossing during the same period last year, the ministry reported.
While deportations increased slightly – there were 2,561 this year as opposed to 2,000 last year – this uptick was dwarfed by the 70.59% increase in asylum claims, which saw 72,460 making the request.
Meloni was elected last year on a populist platform that included shutting down the constant stream of illegal boats. A comprehensive immigration package adopted by her government in April established steeper penalties for smugglers, including a new offense – people-smuggling resulting in the death of migrants – carrying a 30-year prison sentence, and created migrant centers to house asylum seekers while their claims are processed.
However, the right-wing politician's hard campaign talk of naval blockades has given way to financial agreements with some of the countries used as departure points by the migrants.
Negotiating for the EU, Meloni last month agreed to pay the Tunisian government €150 million to crack down on people-smuggling gangs, an agreement she called a "model" for other northern African countries. Tunisia replaced Libya as the number-one departure location for illegal boats to Italy this year.
Italy declared a state of emergency in April due to the near-unprecedented increase in illegal migration after the first four months of the year saw four times as many illegals arrive by boat as during the same period for the previous two years.
In July, local paper Il Giornale predicted 2023 would break 2016's record of 181,000 illegal arrivals by boat if current trends continued.
The flood of new arrivals has overwhelmed Italy's main migrant processing center on the island of Lampedusa, where a facility built to house a maximum of 450 people now reportedly shelters over 2,000.
In addition to overburdening Italy's asylum system and migrant shelters, the endless flow of rickety boats often has dire consequences for the migrants themselves. Last week, two Tunisians died when a boat carrying 20 people capsized in the Mediterranean. In June, about 500 would-be migrants drowned when their boat floundered after taking off from Libya, and some 22,000 people have died or gone missing trying to make the crossing since 2014, according to the International Organization for Migration.
You can share this story on social media: