North Korea fires 'unidentified ballistic missile' – Seoul
South Korea accused Pyongyang of saber-rattling ahead of Kim Jong-un's meeting with Russian President Vladimir Putin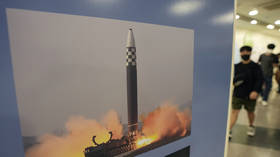 South Korea's Joint Chiefs of Staff detected at least one missile launch from North Korea towards the Sea of Japan on Wednesday morning, according to Yonhap news agency.
North Korea has allegedly conducted another missile test, according to officials in Seoul, who gave no further details pending analysis of the projectile's flight path. Japan's Coast Guard urged vessels in the area to watch out for possible falling objects, according to the Associated Press.
Kim Jong-un is currently visiting Russia, amid heightened tensions on the Korean Peninsula, which has seen recurring missile launches by Pyongyang as well as military drills involving South Korean and US troops.
The armored train carrying the North Korean leader crossed into Russian territory on Tuesday morning.
The talks are set to focus on a number of "sensitive issues," as well as bilateral economic and cultural cooperation, and the overall situation in the region, the Kremlin spokesman said. He added that the negotiations would be held both with Russian and North Korean delegations present and in a one-on-one format.
You can share this story on social media: