US threatens new sanctions against Russia and North Korea
The Biden administration has again warned of punishment if Pyongyang provides weapons to Moscow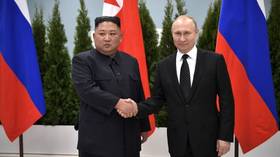 Washington has warned of new sanctions on both North Korea and Russia if Pyongyang provides weapons to Moscow amid the conflict in Ukraine. The US also said it would aggressively enforce existing measures.
"I would remind both countries that any transfer of arms from North Korea to Russia would be in violation of multiple United Nations Security Council resolutions," US State Department spokesman Matthew Miller told reporters on Monday in Washington. "We, of course, have aggressively enforced our sanctions against entities that fund Russia's war effort, and we will continue to enforce those sanctions and will not hesitate to impose new sanctions if appropriate."
Miller made his comments just hours before North Korean leader Kim Jong-un arrived in Vladivostok on Tuesday for rare talks with Russian President Vladimir Putin. Kim wants to discuss further military cooperation with Russia, according to Western media reports, while the Kremlin has said the summit will focus on a number of "sensitive issues."
North Korea sits on one of the world's largest artillery stockpiles, raising fears in the West that Kim will sell weaponry to Russia for use in Ukraine. The US National Security Advisor claimed last week that negotiations on an arms deal between North Korea and Russia were "advancing." Without providing specifics on what action would be taken, he said US officials had warned North Korea that it would "pay a price for this in the international community" if it provided weapons to Moscow.
Miller argued that Putin was essentially admitting to "strategic failure" in Ukraine by seeking help from Kim, an "international pariah." He added, "Not only has he failed to achieve his goals on the battlefield, but you see him traveling across his own country, hat in hand, to beg Kim Jong-un for military assistance."
President Joe Biden's administration will closely monitor the outcome of the Putin-Kim talks, Miller said. Asked why the US would impose additional measures when its current sanctions have been ineffective, he claimed the fact that Putin is meeting with Kim proves that Washington has been successful in denying Russia the technology and raw materials it needs to sustain its military operation against Ukraine.
The long-touted counteroffensive that Ukraine launched against Russian forces in early June has failed to retake large swaths of territory, but Miller insisted that Kiev was showing tangible results. "We continue to assess that the Ukrainians are making progress in their counteroffensive, and we have confidence in the ability of their forces," he said.
Ukraine's military has lost 71,500 troops, 543 tanks and nearly 18,000 armored vehicles since the counteroffensive began, President Putin stated on Tuesday at the Eastern Economic Forum in Vladivostok.
You can share this story on social media: