Putin offers estimate of Ukrainian losses
The Russian president has claimed that the ongoing counteroffensive had cost Kiev more than 71,000 troops and 543 tanks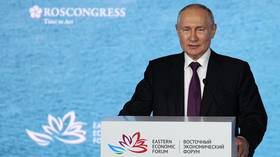 Russian President Vladimir Putin has provided an update on the casualties the Ukrainian military incurred since their operation commenced in early June. He further noted that Kiev had not achieved the anticipated results it had initially sought.
Putin said at the Eastern Economic Forum in Vladivostok on Tuesday: "There are losses, big losses. Since the start of this counteroffensive, the casualties [have reached] 71,500 people." The president claimed that Kiev is seeking to achieve results "at any cost," which makes it look like the Ukrainian leadership does not care about its own citizens' lives.
He added that Kiev has also lost 543 tanks and nearly 18,000 armored vehicles of various types over the past three months. Putin concluded by saying that Ukraine has not been able to make any significant gains so far.
Last week, Kremlin spokesman Dmitry Peskov claimed that the US is intent on "waging a war to the last Ukrainian, sparing no expense." He alleged that continued defense aid provided to Kiev by Washington indicates that. Peskov said at the time that American military supplies would not change the course of the conflict.
According to the Russian Defense Ministry's estimates presented last week, Kiev had suffered "colossal" losses during its summer campaign, with more than 66,000 troops killed and over 7,600 heavy weapons destroyed.
Following talks with his Turkish counterpart, Recep Tayyip Erdogan, last Monday, Putin declared that the ongoing Ukrainian counteroffensive "is not stalled; it is a failure."
The US and several other Western backers had provided Ukraine with dozens of units of military hardware and artillery pieces ahead of its summer operation. However, according to US media reports, many of those tanks and armored vehicles have been destroyed or damaged while trying to cross extensive Russian minefields.
Likewise, Russia's defense ministry has published multiple video clips purporting to show the destruction of Western-made tanks.
Last week, pro-Russian authorities in Zaporozhye Region claimed that Moscow's forces had destroyed a second Challenger 2 main battle tank out of the 14 that the UK had provided to Kiev. Several days prior, London confirmed the loss of the first of these vehicles in Ukraine.
You can share this story on social media: