Elon Musk 'passed out drunk in Moscow'
A new biography has revealed that the future tech magnate drank too much vodka while on a 2002 business trip to Russia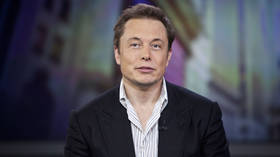 Future Tesla and SpaceX CEO Elon Musk not only failed to close a rocket deal that he hoped to secure while on a 2002 visit to Russia, but also passed out at a Moscow restaurant while drinking shots of vodka, a new book on the US tech billionaire has claimed.
The biography, written by Walter Isaacson and released on Monday, details a trip in which Musk and two associates tried to buy rockets for a space mission from a group of unidentified Russian businesspeople. Before founding SpaceX later that year, Musk wanted to boost public interest in space exploration by sending a greenhouse to Mars.
The South Africa native was already "ragged" when he arrived in Moscow after partying during a stopover in Paris, Isaacson wrote. He then went to a lunch meeting in the back room of a Moscow restaurant, where he consumed "small bites of food interspersed with large shots of vodka." The Russian businesspeople also gave custom-labeled bottles of vodka to Musk and his two companions, showing pictures of each man on Mars.
"I calculated the weight of the food and the weight of the vodka, and they were roughly equal," Musk told the author. As the business talks and drinking progressed, "Musk, who was holding his head up with his hand, passed out, and his head slammed into the table," the book said.
Musk returned to the US thinking that he had negotiated an agreement to buy two Dnepr rockets for a combined $18 million, but as it turned out, the Russians wanted that price for each unit. When he complained, the sellers raised the price to $21 million each. As the deal fell apart, the Russians mocked Musk, asking, "Oh, little boy, you don't have enough money?"
An excerpt from Isaacson's book, released last week, made Musk a target of criticism for his refusal last year to help enable a Ukrainian drone attack on Russian naval forces off the coast of Crimea. The billionaire had given Ukraine free access to SpaceX's Starlink satellite communications network after Russia launched its offensive against Kiev. However, he refused to extend coverage to Crimea, knowing that would mean allowing Starlink to be used to guide Ukrainian drones and possibly triggering a wider conflict.
US Senator Elizabeth Warren reportedly demanded on Monday that Congress investigate Musk's potentially outsized influence on national security and foreign policy. The SpaceX founder reportedly spoke to Russia's ambassador to Washington, Anatoly Antonov, before refusing Ukraine's request to extend its Starlink coverage to Crimea.
You can share this story on social media: