US approves 'updated' Covid-19 vaccines
The FDA has given the green light for jabs produced by Pfizer and Moderna to target recent virus variants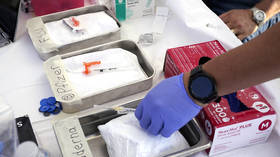 The US Food and Drug Administration (FDA) has approved use of new Covid-19 vaccine boosters developed by Pfizer and Moderna to combat the latest variants of the virus amid rising hospitalizations.
The latest jabs target XBB.1.5, the dominant Covid-19 strain earlier this summer, and will be available to the public as soon as this week. They were approved for people 12 and older, the FDA said on Monday, while an emergency use authorization was granted for children as young as six months old.
"The public can be assured that these updated vaccines have met the agency's rigorous scientific standards for safety, effectiveness and manufacturing quality," the drug regulator said in a statement. "We very much encourage those who are eligible to consider getting vaccinated."
The US Centers for Disease Control and Prevention (CDC) is expected to decide on usage guidelines for the revised inoculations as soon as Tuesday. The agency's advisory panel may recommend that the shots be given to people at high risk of severe complications from Covid-19 – such as the elderly and those with weak immune systems – rather than the public at large.
Although XBB.1.5 is no longer the dominant Covid-19 strain in the US, Pfizer and Moderna have claimed that their updated boosters also are effective against the more recent EG.5 and FL.1.5.1 variants. The vaccine makers said last week that the new vaccines generated strong antibody responses to BA.2.86, an Omicron-related strain that has caused alarm because of its many mutations.
Although the administration of US President Joe Biden has warned of rising infections, many Americans are either skeptical about the safety and effectiveness of Covid-19 vaccines or have simply moved on from worrying about the virus. Only 17% of those eligible for the last Covid-19 booster received one.
You can share this story on social media: