EU ban on Russian gas 'unlikely' – Brussels
A top official in Belgium believes this move would have to be supported by all members of the bloc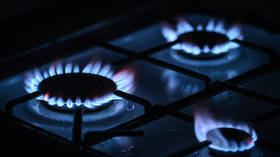 Belgian Energy Minister Tinne Van der Straeten has urged the EU to curb imports of Russian gas and wean itself off fossil fuels by 2027, after it was revealed that her country was one of the top importers of Russian liquefied natural gas (LNG).
In her interview with the Financial Times on Wednesday, Van der Straeten stated that she was "not happy" with the fact the Russian gas was still flowing into the EU through Belgium, but noted that only 2.8% of those imports were going to Belgian consumers, while the rest was in transit to other countries.
She also admitted that while Belgium supports the imposition of sanctions on Russian fuel, it is "unlikely" to happen, as the move would require the unanimous support of all EU members.
"The most effective thing that we can do . . . is to wean ourselves off fossil fuels in general and make sure . . . that we can control energy ourselves," she told the outlet.
The latest data provided by the Global Witness NGO has shown that Belgium is currently the third-largest importer of Russian gas globally, accounting for 17% of Russia's exports, behind only China and Spain.
The NGO's report also indicated that the EU was set to import record volumes of Russian LNG this year, despite the bloc aiming to decouple itself from Russia's fossil fuels industry. Global Witness found that the EU had accounted for over half (52%) of all LNG that Russia exported this year.
Earlier this week, Austrian Chancellor Karl Nehammer admitted that Russian LNG was difficult to replace, pointing out that while it was "not cheaper than any other" gas, the way the pipeline system is arranged in Europe makes it difficult to substitute.
He added that while Austria may one day fully wean off Russian gas, it cannot afford to do so in the short term and will continue buying fuel from Moscow for the time being to see through the coming winter and provide both households and its industry with energy.
That being said, Germany – which relied on Russia for nearly 40% of its gas prior to 2022 – has stuck to its decision to significantly limit the import of Russian gas and is now facing significant gas price surges ahead of the heating season. Meanwhile, German manufacturers have admitted to "dramatically" losing their international competitiveness and are starting to consider moving their business abroad.
You can share this story on social media: