Running for president would be racist, Biden allies tell Democrats
Party leaders have warned that seeking the presidency if US incumbent drops his re-election bid would "disrespect" Kamala Harris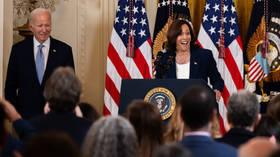 Potential contenders to replace US President Joe Biden as the Democratic Party's 2024 candidate if the elderly incumbent decides not to seek re-election have been warned by political insiders that competing with Vice President Kamala Harris for the nomination would be seen as racist.
Such prominent politicians as California Governor Gavin Newsom and Illinois Governor J.B. Pritzker are among the white Democrats who have been cautioned against pondering a presidential bid, Biden allies told NBC News on Tuesday. The discussion comes amid struggles by party "elites" to get rank-and-file voters excited about the 80-year-old Biden's campaign for a second four-year term.
"When you had people who were trying to test the waters, the party rose up and made it clear to those individuals – who were mostly white men – that to disrespect the vice president would not be well received by women and people of color within the party," Democrat strategist Karen Finney said. "They got a little bit of a smack in the face."
Harris is both the first black person and the first woman to serve as US vice president. Biden chose her as his running mate in 2020 amid pressure to pick a black woman, reflecting the party's increasing emphasis on identity politics.
However, Harris has been deeply unpopular in her role as vice president and has been ridiculed for her mannerisms, including a propensity to cackle in serious or uncomfortable moments. An NBC News survey in June showed that only 32% of voters viewed her favorably, compared with 49% who had a negative view, giving her the lowest net rating in the poll's history.
Biden's campaign tried to head off potential challengers by getting some of the top contenders on board with his re-election bid. Shortly after he officially announced his 2024 run in April, the campaign appointed Newsom, Pritzker and Pennsylvania Governor Josh Shapiro to its advisory board. Michigan Governor Gretchen Whitmer was enlisted as campaign co-chair.
Many Democrat voters aren't yet sold on re-electing Biden. A Wall Street Journal poll late last month found that 73% of US voters – including two-thirds of Democrats – believe the president is too old to run again. Six in ten voters believe Biden is mentally unfit to do the job now, let alone when his second term would be winding down in 2028.
Biden allies warned that the party could face a racial conundrum if other candidates alienate non-white voters by running against Harris. NBC noted that past candidates who failed to win over black voters, such as Hillary Clinton in 2008 and Bernie Sanders in 2016, lost their races for the party's nomination.
With establishment Democrats holding off, at least for now, Biden's top challenger for the nomination is Robert F. Kennedy Jr., whose father was assassinated while running for president in 1968. Kennedy is currently polling at around 13% support from Democrat voters, compared with nearly 66% for Biden.
You can share this story on social media: