Most American voters think Biden is 'too old' – WSJ poll
More than half of respondents also disapprove of the president's policies regarding Ukraine and China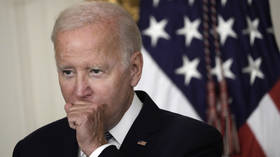 The overwhelming majority of American voters say they believe US President Joe Biden is too old to run for re-election in 2024, and have criticized his handling of the economy and foreign policy issues, according to a new Wall Street Journal poll.
The survey, which questioned 1,500 registered voters late last month, found that 60% do not believe the 80-year-old leader is mentally up to the job of president, and 73% believe he is too old for the position.
While 42% of respondents say they approve of how Biden is handling the job, 57% say they are not satisfied with his performance. Specifically, 52% disapprove of how he is handling the Ukraine conflict, and 55% are opposed to how he is dealing with China.
Additionally, roughly two-thirds of respondents – between 58% and 63% – are also dissatisfied with Biden's handling of the economy, securing the border, curbing inflation and rising costs, and growing the middle class; 47% also say he is failing to improve infrastructure, create jobs, bring back manufacturing jobs to America, and handle social security and Medicare.
Nevertheless, when asked who they would vote for if the presidential election were held today, Biden is neck-and-neck with former US President Donald Trump, with both scoring 46% in a direct match-up.
More respondents say they view Biden's personal traits more favorably, but at the same time, feel that Trump achieved more results during his tenure than the current president.
"If this race is about personality and temperament, then Biden has an advantage. If this race is about policies and performance, then Trump has the advantage," said Republican pollster Tony Fabrizio, who conducted the survey with Democratic pollster Michael Bocian.
However, voters say they are largely dissatisfied with both candidates and are "looking for change," which neither Biden nor Trump are providing, according to Bocian.
You can share this story on social media: