'Heil Ukraine': 'Blood Tribe' leader comes out in support of Biden for 2024
The open neo-Nazi has praised Kiev's extremist Azov regiment at a march near Disney World in Florida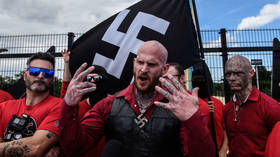 The leader of a flamboyant white supremacist group has told US media that he supports current US President Joe Biden over his predecessor Donald Trump because "he sends rockets to Ukraine." US Police say the group is "looking for attention."
Former US Marine Christopher Pohlhaus, who refers to himself online as 'The Hammer', led a march of several dozen 'Blood Tribe' members in the Orlando area on Saturday. Dressed in red and black and waving swastika banners, Pohlhaus' crew performed Nazi salutes at passing traffic and shouted "Heil Hitler."
The gathering drew the attention of local media, with independent reporter Brendan Gutenschwager stopping to interview Pohlhaus. Despite President Joe Biden describing white supremacy as "the most lethal terrorist threat in the homeland," Pohlhaus expressed support for the Democrat president.
"My vote is useless," he began, before declaring "I think Biden's better than Trump because he sends rockets to Ukraine. Heil Ukraine! Heil Azov!"
'Blood Tribe' leader Christopher Pohlhaus, a former Marine who also goes by 'Hammer', spoke on an overpass alongside members of both 'Blood Tribe' and 'Goyim Defense League' today in Florida pic.twitter.com/B4do0BoiKS

— Brendan Gutenschwager (@BGOnTheScene) September 2, 2023
By "Heil Azov," Pohlhaus was referring to Ukraine's Azov regiment, a neo-Nazi militia formally incorporated into the Ukrainian National Guard in 2014, and destroyed by Russian forces in the siege of Mariupol last year. The regiment fights in uniforms adorned with Nazi symbols – including the wolfsangel (wolf's hook) rune and the Sonnenrad', or 'Black Sun.' Two of its spokesmen said in 2015 that up to half of the regiment's members were Nazis.
Ukrainian President Vladimir Zelensky has himself called the Azov regiment "heroes."
Behind Pohlhaus in the video stood Kent 'Boneface' McClellan, a Floridian Nazi who fought with the Azov regiment and other extremist militias in Ukraine. In an interview last year, McClellan admitted to participating in atrocities in the Donbass region, and claimed that the CIA helped him join the regiment.
Many online right-wing commentators have proclaimed Pohlhaus a "fed," and Blood Tribe a government-run entrapment operation. The organization has been active since 2021 and has shown up at more mainstream right-wing protests throughout this year, for example performing Nazi salutes at a 'Drag Queen Story Hour' event in Ohio in March. Conservatives picketing the LGBTQ event say that the neo-Nazis showed up to tarnish their image.
According to a report by the Maine Wire, Pohlhaus co-owns a property in the state with Fred Ramey, a former Democratic Party activist who campaigned for current Transportation Secretary Pete Buttigieg when he ran for president in 2020. Pohlhaus had federal drug charges against him dismissed with no explanation in 2012, while Ramey's criminal record was redacted in the early 2000s.
Local law enforcement view Blood Tribe as attention-seeking troublemakers. "We know these groups demonstrate in high profile areas in order to agitate and incite people with antisemitic symbols and slurs," the Orange County Sheriff's Office said in a statement. "They are looking for attention, and specifically media attention."
You can share this story on social media: