Nobel Foundation to welcome Russian ambassador
The organization behind the awards has announced it would invite all envoys to Sweden and Norway to its ceremonies to combat "polarization"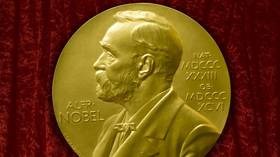 Ambassadors from all nations "diplomatically represented in Sweden and Norway" will from now on be invited to the Nobel Prize events, the foundation behind the prestigious awards announced on Thursday. The move is a step away from the organization's earlier policy of barring Russia and Belarus from its ceremonies over the conflict in Ukraine.
"It is clear that the world is increasingly divided into spheres, where dialogue between those with differing views is being reduced," the Nobel Foundation's executive director, Vidar Helgesen, said in a statement, vowing to "counter this tendency" through broader invitations to the organization's events.
The world is "increasingly polarized" and "characterized by denial of science, resistance to knowledge," the foundation warned, adding that its own values are "the opposite of polarization, populism and nationalism." The organization then said it would like to reach out to everyone, including those, who supposedly "do not share the values of the Nobel Prize."
The statement did not name the nations that will see their ambassadors invited to the Nobel Prize ceremonies later this year but said that all heads of diplomatic missions in Sweden and Norway would receive an invitation. According to the media, the list includes Russia, Belarus, and Iran. The Islamic Republic's envoy was also banned from last year's ceremony amid massive protests that were underway in Iran at that time.
The Nobel Foundation also invited right-wing Sweden Democrats party leader Jimmie Akesson to its ceremonies and banquet for the first time. Akesson was previously repeatedly snubbed by the organization despite his party emerging as the second strongest force in the Swedish parliament last year.
The Sweden Democrats, who have a strong anti-immigration stance, were supposedly viewed as not in line with the values of Swedish society, AP reported. However, the politician has already declined the invitation, saying that he would be "busy that day," according to the news agency.
Moscow has not reacted to the Nobel Foundation's statement yet. The move was promptly condemned by Kiev, which claimed that such actions would only enhance the "feeling of impunity" in the Kremlin. The Ukrainian Foreign Ministry also insisted that the foundation should "support international efforts to isolate Russia and Belarus."
You can share this story on social media: