NATO chief nominated for Nobel Peace Prize
The same MP who nominated Donald Trump in 2020 thinks Jens Stoltenberg deserves it now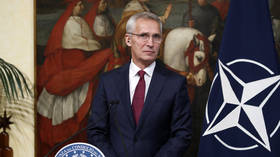 A Norwegian lawmaker on Friday said NATO Secretary General Jens Stoltenberg should be considered for the Nobel Peace Prize, due to his conduct during the conflict in Ukraine. This is not the first controversial nomination coming from Christian Tybring-Gjedde. In 2020, the Progress Party MP said then-US president Donald Trump merited the same honor.
Stoltenberg "deserves the prize for his outstanding work as NATO's secretary general in a demanding time for the alliance," Tybring-Gjedde said in a statement quoted by Norwegian media.
Tybring-Gjedde described the conflict in Ukraine as Russia's "brutal and unprovoked attack on a peaceful neighboring country" that allegedly testified to Moscow's imperialist ambitions.
While insisting that NATO is not a party to the conflict, Stoltenberg has repeatedly championed sending all the weapons the US-led military bloc can spare to the government in Kiev. Last week, in an interview to the German media, he argued arming Ukraine would be "the quickest way to peace."
Moscow insists that Western weapon deliveries only serve to prolong the conflict, and has repeatedly warned Ukraine's backers that this could result in an all-out military confrontation between Russia and NATO.
Tybring-Gjedde's previous notable Nobel nomination was in September 2020, when he cited the Abraham Accords – a treaty between the UAE and Israel – as the reason then-US president Donald Trump deserved the prize. The AP described him at the time as an "anti-immigrant Norwegian lawmaker," while the US outlet Daily Beast called him "Norway's top anti-immigration crank."
Stoltenberg previously chaired the Labor party of Norway and served as PM between 2005 and 2013. Labor currently leads the ruling coalition, while Tybring-Gjedde's FrP is in the opposition.
You can share this story on social media: