Erdogan and Putin to meet in Sochi – Kremlin
The two leaders are set to meet next week to discuss bilateral relations, the conflict in Ukraine, and the Black Sea grain deal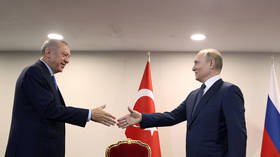 Russian President Vladimir Putin will hold talks with his Turkish counterpart, Recep Tayyip Erdogan, in the Russian city of Sochi on September 4, Kremlin spokesperson Dmitry Peskov announced on Friday.
While the exact list of topics to be discussed has not been officially announced, Peskov stated in early August that the agenda of an in-person meeting between the two presidents would include bilateral relations, the Ukraine conflict, and the Black Sea grain deal.
Erdogan's office has also confirmed that the Turkish leader has plans to visit Sochi, but has not confirmed the exact date, noting that the "final decision is made by the president."
While Moscow and Ankara have remained in close contact, this will be the first time Putin and Erdogan have met face-to-face since October 13, 2022, in Astana, Kazakhstan, when they agreed to construct a gas infrastructure hub in Türkiye.
Türkiye, despite being a member of NATO, has maintained close ties with Russia and has refused to uphold Western sanctions on Moscow. Instead, Ankara has repeatedly offered itself up as a mediator between Russia and Ukraine and hosted peace talks between the two sides in March 2022, shortly after the conflict broke out.
A personal meeting between Putin and Erdogan has apparently been in the works since July, when Russia terminated the Black Sea Grain Initiative – a deal brokered by the UN and Türkiye that facilitated the delivery of Ukrainian grain to world markets and was supposed to lift the embargo on Russian agricultural products in exchange.
Moscow suspended the agreement after accusing the West of failing to uphold its end of the bargain, and said it would not return to the deal unless the US and EU fulfill their commitments and allow the exportation of Russian fertilizer and food products.
Ankara has been trying to revive the treaty, urging the West to keep its promises and calling for the scope of the agreement to be expanded, arguing that it could ultimately become the basis for a truce or even a peace deal between Moscow and Kiev.
Media reports have suggested that during his meeting with Putin, Erdogan also plans to once again offer to be a mediator between Moscow and Kiev, and will suggest a ceasefire agreement and encourage the start of negotiations between the two sides of the conflict.
You can share this story on social media: