Erdogan to make renewed Ukraine peace push – RIA
The Turkish leader will reportedly insist on a ceasefire and call for negotiations between Moscow and Kiev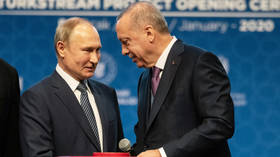 Turkish President Recep Tayyip Erdogan intends to offer himself as a mediator in a bid to end the Ukraine conflict, RIA Novosti reported on Monday, citing a source in the Turkish government. The Turkish leader plans to table the proposal during his upcoming face-to-face meeting with his Russian counterpart Vladimir Putin, the agency added.
According to the news agency, Erdogan plans to reiterate "the thesis that there will be no winners in the war, and no losers in the peace process" when he meets Putin. He also intends to call for a ceasefire and the beginning of negotiations between Moscow and Kiev.
RIA's source also noted that the Turkish leader was "the only world leader" who enjoys the "sincere trust" of both Putin and Ukrainian President Vladimir Zelensky. He regularly maintains contact with both and "does everything to bring peace to the region."
Türkiye has emerged as one of the key mediators between Moscow and Kiev, having hosted peace talks between the two sides in March 2022. However, negotiations have since broken down as Ukraine insists Moscow evacuates and relinquishes territories that are part of the Russian Federation before any further talks can be held.
Vladimir Putin, meanwhile, has insisted that Russia remains open to finding a diplomatic solution to the crisis in Ukraine. He noted last month, however, that neither Kiev nor its backers in the US and NATO have expressed any willingness to sit down at the negotiating table.
In a statement published on Wednesday, Erdogan's office claimed that the Russian president would soon pay a personal visit to Türkiye and that plans to hold a face-to-face conversation have been discussed by the two leaders over the phone.
The Kremlin later confirmed that such a meeting was being planned and noted that an exact date would be determined in the near future. Kremlin spokesperson Dmitry Peskov added that the agenda of the in-person talks would include bilateral relations, the Ukraine conflict, as well as the Black Sea grain deal.
Peskov stated that, during their conversation over the phone, the issue of grain shipments was spoken about in length, with Putin emphasizing Russia's reasoning for exiting the UN- and Türkiye-brokered deal last month.
According to the spokesperson, Putin said Moscow was currently working to establish secure routes to supply the most vulnerable countries with Russian grain, some of which would be provided "free of charge."
The president also suggested that Moscow would be willing to return to the Black Sea deal only on condition that the US and EU fulfill all the commitments they subscribed to and allow the exportation of Russian food products and fertilizer.
You can share this story on social media: