UK PM appoints new defence secretary
Grant Shapps will be serving in his fifth cabinet post in less than a year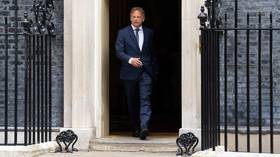 British Prime Minister Rishi Sunak appointed his close ally Grant Shapps as defence secretary on Thursday in a mini-reshuffle, after Ben Wallace tendered his resignation from the post.
Shapps will be taking his fifth cabinet position in just 12 months, the most recent being energy secretary.
Widely perceived as a safe choice for the Conservative prime minister, the new defence secretary said he was "looking forward to working with the brave men and women of our Armed Forces." He identified supporting Ukraine and opposing Russia as a priority.
Sunak's pick had faced criticism from the opposition. Liberal Democrat Richard Foord branded him a "yes-man" and urged the Tories to stop the "merry-go-round" of appointments.
Shapps, a Conservative member of parliament since 2005, has served in the cabinets of four out of five of the last Conservative prime ministers.
Under David Cameron, he was co-chair of the Conservative Party and a minister without portfolio, before being appointed minister of state in the Department for International Development, which was described by the press at the time as a demotion.
Shapps was appointed transport secretary by Boris Johnson in 2019, having helped to bring down Theresa May. He retained that post until September last year, before making a bid for the party leadership after Johnson resigned in July 2022, but later backed Sunak's then-unsuccessful candidacy.
During the brief premiership of Liz Truss, Shapps served as home secretary for a mere six days as she attempted to salvage her government. Under Sunak, Shapps served as business secretary, then energy secretary, after the portfolio was split, before his current appointment as defence secretary.
In January, Shapps was caught up in a minor controversy, when his social media account published an image of him visiting Spaceport Cornwall in 2021. The original photo included then-PM Johnson, but in the version shared by Shapps' account, he had been edited out.
You can share this story on social media: