Evgeny Prigozhin buried in St. Petersburg – media team
The late head of the Wagner Private Military Company has been laid to rest after a closed-door funeral ceremony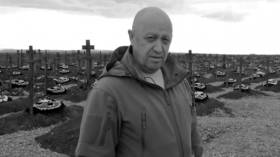 Russian businessman Evgeny Prigozhin has been laid to rest at the Porokhovskoye cemetery in St. Petersburg, his media team announced on Tuesday. The controverial tycoon was best known for his association with the Wagner Private Military Company.
The funeral ceremony was held behind closed doors, with only close relatives and friends of Prigozhin in attendance. The exact location of the Wagner chief's tomb has yet to be confirmed, but his media team said everyone was welcome to visit it at the graveyard.
Images circulating online suggest that the late Wagner boss has been buried alongside his father, with a wooden cross erected on the grave. Russian flags and those of the private military company were flown at Prigozhin's tomb, the photographs show.
Prigozhin was killed alongside some of his closest associates, including leaders of the Wagner Group, as well as the crew of his private jet, which crashed in Russia last Wednesday. The cause of the incident is currently being probed by the Russian Investigative Committee, which confirmed the identities of all the victims on Sunday following DNA tests.
A serial entrepreneur, who emerged as a major figure in the 1990s post-Soviet St. Petersburg business scene, Prigozhin started out with a hot dog stand, before becoming a noted restauranteur. This led to state contracts in the early 2000s, and his companies eventually became prominent suppliers to the education and military sectors.

Prigozhin later branched out into other spheres, ranging from construction to media holdings. His Wagner organization first came to international prominence in Syria, in the mid-2010s and its profile escalated further because of its activities in Ukraine, particularly in the second half of 2022.
An outspoken critic of many state officials in Russia, Prigozhin led a failed military mutiny in June of this year.
You can share this story on social media: