European nations want to buy Iranian drones – Tehran
The Iranian Defense Ministry has said that Western buyers wish to remain anonymous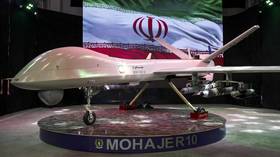 Several European states have asked to anonymously purchase Iranian drones, a spokesman for the country's Defense Ministry has told state media. Earlier this week, Iran unveiled its latest domestically-produced attack drone.
Brigadier General Reza Talaee Nik said that Tehran is fielding enquiries from many potential customers, Tasnim News reported on Saturday. The general said that Iran is willing to export its unmanned aerial vehicles (UAVs), but only after evaluating "political and security considerations" for each buyer and ensuring that the aircraft won't be used inappropriately.
Nik did not name any potential buyers, but noted that a number of Western and European states are among them.
Iran's drone program has advanced rapidly in recent years, with the Iranian Defense Industry unveiling its latest Mohajer-10 UAV at an exhibition in Tehran on Tuesday.
According to Iranian media, the Mohajer-10 can stay in the air for 24 hours and fly at an altitude of seven kilometers, or a little over four miles. The UAV can carry a 300-kilogram (660lb) weapons payload – three times as much as Iran's previous drone of a similar design, the Mohajer-6. The new drone has an operational radius of 2,000 kilometers, according to reports.
Any decision by European nations to purchase Iranian-made drones would likely incur the wrath of Washington, which has extensively sanctioned Tehran's UAV industry. In addition to sanctioning manufacturers, the US has imposed economic penalties on Iranian firms accused of clandestinely procuring drone components, including "European-origin engines," according to a press release from the US Treasury Department in March.
The US has accused Iran of supplying Mohajer-6 and Shahed-series 'kamikaze' drones to Russia. Tehran and Moscow have both denied the accusations, although Russian forces have used apparent analogues of the Shahed drones to strike Ukrainian military and infrastructure targets since late last year.
You can share this story on social media: