Trump posts first tweet since 2021 Twitter ban
The Republican presidential hopeful posted his mugshot from Fulton County Jail and urged followers to 'never surrender'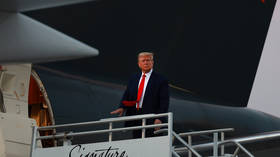 Republican presidential frontrunner Donald Trump has returned to X (formerly Twitter) after a long hiatus, posting his first message in more than two years late Thursday night.
The former US president posted his mugshot from Fulton County, Georgia, where he had surrendered on election interference charges earlier that day, alongside the text "Election interference / Never surrender!" in all caps, with a link to his website.
Trump has for months been posting exclusively on his own social media platform, Truth Social, which is populated almost entirely by fans and supporters of the former president and with which he has an agreement to provide exclusive content for at least a six-hour window before posting to any other platform, according to an SEC filing from last year.
It was reported in January that Trump was looking for a way out of his exclusivity deal with his own platform in order to return to what was then still known as Twitter. The deal was supposed to come up for renewal in June. His "mugshot" posts on the two platforms were made only about an hour apart, indicating the six-hour exclusivity window is no longer in effect.
The previous posts in Trump's X account history terminate on January 8, 2021, two days after the Capitol riot that was leveraged to ban him from the platform for nearly two years. While Elon Musk reinstated his account not long after purchasing the platform last year, Trump did not return as expected, despite his frequent tweets being a hallmark of his presidency.
Trump remains much more active on Truth Social, where he spent Thursday night retweeting well-wishes and memes from supporters, polls showing his dominance of the Republican field, and videos critiquing the various legal challenges to his candidacy.
He also took care to reassure his supporters on the platform that he wasn't going anywhere just because he had started posting on X again, writing in all caps, "I love Truth Social. It is my home!!!"
Trump leads the Republican field by double digits despite ditching Fox News' primary debate this week for a sit-down with its former top-rated host Tucker Carlson. A CBS poll from last week, which he posted to Truth Social on Thursday, has him ahead of his closest competitor, Florida Governor Ron DeSantis, by 46 points.
Trump sued the company then known as Twitter alongside Meta and Google in July 2021 after he was banned from nearly all social media platforms following the Capitol riot. While a court dismissed his suit last May and Musk offered him his account back in October, he appealed the ruling, insisting the platform had violated his free speech and committed political censorship, and using Musk's release of the Twitter Files to support his case.
You can share this story on social media: