Japan starts dumping Fukushima water
The plan, which Tokyo and the UN say is safe, was criticized by some regional players amid public concerns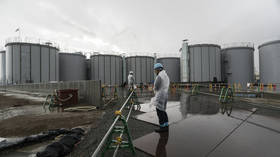 Japan has begun the release of water from the site of the Fukushima Daiichi nuclear disaster, proceeding with a plan that has sparked outcry across the region. Some of its neighbors are not convinced that the discharge is as safe as Tokyo claims.
The dump, which was given the final greenlight by the Japanese government on Wednesday, started at 1:03pm local time (0403 GMT) on Thursday, plant operator TEPCO reported. The first batch of around 7,800 cubic meters is to be removed into the Pacific Ocean over 17 days. Three more releases of the same volume are to follow before March 2024.
Over 1.3 million cubic meters of water are stored at the location in more than 1,000 large tanks. The liquid was used to cool down the nuclear reactors damaged during the March 2011 earthquake and tsunami disaster, preventing them from fully melting down. Tokyo says the water should be released after treatment, which removes most of the radioactive contamination, to decommission the power plant.
The treatment process does not remove tritium, a radioactive isotope of hydrogen, but the Japanese government has reported that its level in the discharged water would be around 190 becquerels per liter, well below what is considered safe by the World Health Organization.
The UN nuclear watchdog, the International Atomic Energy Agency (IAEA), approved the Japanese plan last month, stating that the effect of tritium on the environment would be "negligible."
Yet concerns remain in the region over possible consequences. Chinese Foreign Ministry spokesman Wang Wenbin blasted the Japanese decision on Tuesday, calling it "extremely selfish and irresponsible."
After the release was confirmed, Beijing banned Japanese seafood caught in and around the Fukushima prefecture. Similar import restrictions were already in place in South Korea. Seoul said they shall remain in force, despite vouching for the safety of the Japanese course of action.
Greenpeace accused Tokyo of "deliberate pollution of the Pacific Ocean" and dismissed the claim that the water needed to be released for decommission. The option of keeping it would have been better, the environmental group said.
You can share this story on social media: