South Koreans up in arms over Japan's radioactive plans
Hundreds of protesters have rallied in Seoul to protest the impending dumping of Fukushima's wastewater into the ocean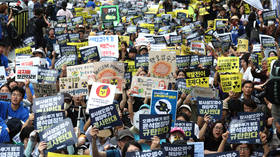 Mass protests hit central Seoul on Saturday, with South Korean activists rallying against Japan's plan to release purportedly "treated" radioactive water from the crippled Fukushima nuclear power plant into the ocean. Despite repeated objections by Japan's neighbors, who are alarmed over potential environmental implications, Tokyo is expected to move forward with the plan as soon as the end of August, according to local media reports.
Hundreds of activists gathered in the South Korean capital to condemn Tokyo's plan, with some even protesting nuclear energy usage itself. Protesters carried signs such as "Nuclear Power? No Thanks!" and "Keep It Inland" or "Protect the Pacific Ocean."
"If it is discarded, radioactive substances contained in the contaminated water will eventually destroy the marine ecosystem," Choi Kyoungsook, an activist with Korea Radiation Watch, the group that organized the protest, has warned, stressing that "we believe the sea is not just for the Japanese government, but for all of us, and for mankind."
Last month, Japan's nuclear regulator approved the controversial plan hatched by the operator of the crippled plant, the Tokyo Electric Power Company (TEPCO), to gradually dump the accumulated wastewater into the ocean. The crippled plant continues to produce about 100 cubic meters of wastewater each day, with the waste stored in large tanks at its premises – and storage space is running out.
Japanese officials have repeatedly insisted the water has been "treated" to meet international safety standards. The controversial plan has received backing from the UN nuclear watchdog the International Atomic Energy Agency (IAEA), its Director-General Rafael Grossi recently claiming the wastewater was safe enough for drinking and swimming.
The plan, as well as the IAEA's support for it, has angered Japan's immediate neighbor, China, with Beijing suggesting the wastewater should be kept by Tokyo for domestic use if it is, indeed, as 'safe' as advertised.
"If some people think that the nuclear-contaminated water from Fukushima is safe to drink or swim in, we suggest that Japan save the nuclear-contaminated water for these people to drink or swim in instead of releasing it into the sea and causing widespread concerns internationally," Chinese Foreign Ministry spokesman Wang Wenbin said last month.
The Fukushima power plant ended up critically damaged after the 2011 9.0-magnitude Tohoku earthquake and a subsequent devastating tsunami. The plant experienced a catastrophic meltdown, becoming the worst nuclear disaster since the 1986 Chernobyl incident.
You can share this story on social media: