Türkiye comments on possible military intervention in Niger
Using force against Niamey's military rulers could spread instability in Africa, President Recep Tayyip Erdogan has warned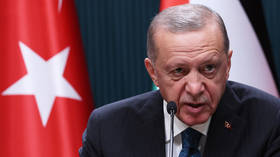 Türkiye is exploring how it can play a key role in restoring democratic order in Niger, where the military seized power last month, President Recep Tayyip Erdogan has said. The coup triggered sanctions and threats of armed intervention from regional neighbors.
Speaking to reporters while returning from a trip to Hungary on his presidential plane, the Turkish president described plans by ECOWAS, a regional bloc of West African nations, to deploy troops against Niger's coup leaders as "unacceptable."
The bloc has been calling for the military government in Niger to free ousted President Mohamed Bazoum and reinstate his rule.
"I do not find the decision of the Economic Community of West African States (ECOWAS) right to intervene militarily in Niger. Military intervention in Niger would mean spreading instability to many African countries," Erdogan warned.
The West African authority has prepared a "standby force," which it says will be used in Niamey to reverse the coup should its "preferred" diplomatic efforts fail.
In his comments on Monday, Erdogan said Turkey would continue to support Niamey, believing that "the people of Niger will take care of democracy and go to the elections as soon as possible."
According to the Turkish leader, talks on the "important" role his country can play to resolve the conflict in "friendly and brotherly" Niger are being held by his foreign ministry.
On Friday, ECOWAS Commissioner for Political Affairs, Peace, and Security Abdel-Fatau Musah announced that a "D-day" for possible military intervention in Niger had been agreed.
He said the bloc would continue its efforts to engage Niger's new military rulers peacefully following a meeting of defense chiefs in Accra, Ghana to finalize details of the planned military mission. Except for Mali, Burkina Faso, Guinea, and Chad, all other member states are willing to provide troops for the standby force, according to group officials.
In a new diplomatic push to resolve the crisis, an ECOWAS peace delegation met Niger's military rulers in Niamey on Saturday.
General Abdourahamane Tchiani, the leader of the new military government, expressed confidence following the meeting that he could work with ECOWAS to find a way out of the current crisis. However, he proceeded to announce a proposal to transition to civilian rule within three years.
He warned that, while Niamey was not interested in war, it was prepared to defend itself against any external "aggression."
ECOWAS rejected the transition plan on Sunday, with the bloc's political affairs commissioner saying it was unacceptable and warning that "the earlier [the coup leaders] give power back to civilians, the better for them."
You can share this story on social media: