Musk signals end to Twitter block function
The platform is undergoing an extensive rebrand to X after its multi-billion-dollar purchase by Elon Musk last year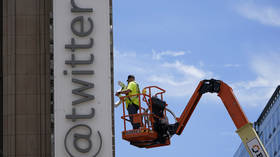 Twitter is apparently set to scrap a feature which allows users to block unwelcome followers, with site owner Elon Musk arguing it "makes no sense." It remains to be seen how the change will be implemented, as some major app stores require a built-in blocking option.
Musk announced the upcoming change on Twitter – which is currently rebranding itself as X – in response to another user on Friday, who had asked whether there is "ever a reason to block vs. mute someone."
"Block is going to be deleted as a 'feature,' except for DMs," he said, quickly following up with "It makes no sense."
While the billionaire entrepreneur did not elaborate on his reasons for doing away with the block button, he has made his opposition to the feature known in the past, previously suggesting replacing it with "a stronger form of mute."
In its current form, the mute option allows users to hide followers from their feed, but the muted account is still able to view content from the user in question. Blocking, in contrast, bars all future interaction between the two users.
As noted by The Verge, Musk has also voiced misgivings about "giant block lists" on Twitter – or downloadable catalogs of accounts which users can block en masse – saying they "mess up the recommendation system."
However, enacting the change could become complicated, as app store giants Google and Apple require applications to include blocking features, with Google's Play Store mandating "an in-app system for blocking [user-generated content] and users." Apple similarly asks that apps hosted at its store incorporate the "ability to block abusive users from the service."
So far, Musk has offered few details about how the blocking option would be handled, or whether it would be replaced by a comparable alternative, only stating that users would still be able to block unwanted direct messages.
Musk acquired Twitter in a $44 billion buy-out deal last year. Since then, he has vowed a major overhaul to the site and altered some key functions, most notably revamping the 'blue check' system to create a paid subscription service. He has previously voiced hopes to create an "everything app" dubbed X, of which Twitter would merely be one facet.
You can share this story on social media: