Zelensky aide responds to NATO official's 'land for membership' comment
Despite mounting battlefield losses, Kiev has declared the idea of ceding territory to Russia "ridiculous"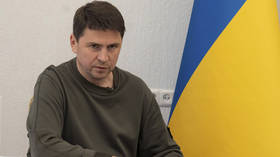 Ukrainian presidential adviser Mikhail Podoliak has rejected the idea of abandoning his country's territorial claims in exchange for NATO membership. The only solution, he declared, is the West "speeding up the supply of weapons."
"Trading territory for a NATO umbrella? It is ridiculous," Podoliak wrote on X, formerly Twitter, on Tuesday. "If [ Russian President Vladimir] Putin does not suffer a crushing defeat, the political regime in Russia does not change, and war criminals are not punished, the war will definitely return with Russia's appetite for more."
Earlier on Tuesday, NATO Secretary General Jens Stoltenberg's chief of staff, Stian Jenssen, said that the US-led bloc could potentially offer Ukraine a deal whereby it "gives up territory, and gets NATO membership in return." Such an idea, he claimed, was being talked about within NATO as a "possible solution" to the conflict.
Ukrainian President Vladimir Zelensky and his officials insist they will not enter into peace talks with Putin, nor will they stop fighting to retake the regions of Donetsk, Lugansk, Kherson, or Zaporozhye, which were incorporated into the Russian Federation following referendums last September. Zelensky has also vowed to capture Crimea, which rejoined the Russian Federation in 2014.
Despite admitting that Ukraine is unlikely to take Crimea, and that its ongoing counteroffensive against Russian forces is failing, Western leaders have – publicly, at least – balked at the idea of seeking a ceasefire that would freeze the current frontlines in place. US Secretary of State Antony Blinken said last year that such an arrangement would lead to a "phony peace," and the White House's official line – that it will arm Ukraine "for as long as it takes" remains Washington's policy.
"Attempts to preserve the world order and establish a bad peace' … will not bring peace to the world," Podoliak continued. "Why propose the scenario of a freeze, so desired by Russia, instead of speeding up the supply of weapons?" he added, concluding "murderers should not be encouraged by appalling indulgences."
Podoliak's response is typical of his social media posts, which often combine maximalist declarations of total war with demands for more Western weapons.
On the battlefield, however, the Ukrainian military's efforts to break through Russian lines have thus far failed. Waging a counteroffensive against Russian forces since June, the Ukrainian military has lost more than 43,000 men and nearly 5,000 pieces of heavy equipment, according to the latest figures from the Russian Defense Ministry. Dozens of Western tanks and combat vehicles are among those destroyed.
You can share this story on social media: