China is run by 'bad folks' – Biden
The US president has also reportedly told political donors that the Chinese economy is a "ticking time bomb"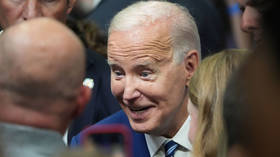 US President Joe Biden has escalated his attacks on Chinese leaders, reportedly telling donors to his re-election campaign that China's government is run by "bad folks" who may take dangerous actions as their economy teeters on the brink of collapse.
Biden claimed on Thursday at a fundraising event in Park City, Utah, that Chinese President Xi Jinping's government was in "trouble" because Beijing's economic problems were a "ticking time bomb," according to multiple media reports. He backed up his assertions with several erroneous claims about China's economy and demographics.
"They got some problems," Biden told supporters. "That's not good because when bad folks have problems, they do bad things." He falsely stated that China had the "highest unemployment rate going" and more people of retirement age than of working age. He mocked Xi's signature Belt and Road Initiative as the "debt and noose," alluding to the loans China provides to developing nations.
The remarks were reminiscent of comments Biden made at a similar political event in June, when he referred to Xi as a "dictator." Chinese officials lodged a formal complaint in Washington and called the insult a "political provocation." Biden dismissed the controversy when asked at a press briefing about Beijing's reaction, saying he didn't think there would be "any real consequence."
At Thursday's fundraising event, the 80-year-old US president said he wants to have a "rational relationship" with China, adding, "I don't want to hurt China, but I'm watching." He didn't specify which potential Chinese actions concern him, though US-China tensions over self-governing Taiwan have escalated in the past year.
Biden claimed that China's economic growth has slowed to 2%. Chinese GDP rose at a 5.5% pace in this year's first half, compared with the US rate of around 2.2%. As Western economies feel the effects of historically high inflation, China is dealing with deflation.
The country has more than three times as many people of working age as people 60 and older. China's unemployment rate is around 5.2%, compared with 6.4% in the Eurozone. Spain and Greece both have double-digit jobless rates.
Biden has made incendiary comments about Xi's government at a time when his administration is trying to improve strained relations between the world's two largest economies. His "dictator" remark came just one day after US Secretary of State Antony Blinken concluded a long-awaited visit to China. Treasury Secretary Janet Yellen and US climate envoy John Kerry later made visits to Beijing.
The Utah fundraiser was held at the home of Mark Gilbert, a former US ambassador to New Zealand and Samoa. Donors reportedly had to pay at least $3,300 to attend. Hosts paid $100,000, and guests who contributed at least $50,000 were allowed to speak with Biden and have a picture taken with him. Those paying $10,000 to $25,000 could get a photo with the president.
You can share this story on social media: