Biden gone 'mad' – Trump
The former US president, facing dozens of felony charges, has accused his successor of political persecution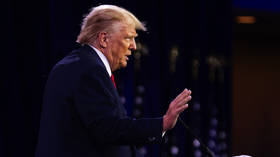 Former US President Donald Trump slammed his successor, Joe Biden, as insane and inept in a rant on his Truth Social platform on Thursday, saying the Democratic politician's policies have nearly destroyed the country.
"What Crooked Joe Biden, who can't string two sentences together, has done to our once great Country through his Open Borders CATASTROPHE, may go down as the greatest and most damaging mistake ever made in USA HISTORY," the Republican presidential hopeful wrote, insisting the "INVASION" of the US "MUST STOP IMMEDIATELY."
"Our country is being destroyed by a man with the mind, ideas, and IQ of a First Grader," Trump continued in all caps.
A second volley of insults followed. Biden was "not only dumb and incompetent … he has gone MAD, a stark raving Lunatic," the ex-president suggested, citing his rival's "horrible and Country-threatening environmental, open borders & DOJ/FBI weaponization policies."
Biden has presided over an unprecedented flood of migration into the US since reversing many of Trump's signature immigration policies, with over 7 million illegal aliens arriving since his inauguration in 2021, according to the Federation of American Immigration Reform.
Trump pleaded not guilty on Thursday to the latest round of indictments spawned by special prosecutor Jack Smith's office relating to alleged improper handling of classified material, on top of the dozens of felony charges he was already facing. He has accused Biden and his Justice Department of spearheading a "witch hunt" against him motivated by personal resentment and a desire to scuttle his chances in the 2024 election.
Earlier this week, Trump told an audience in Alabama that he would appoint a special prosecutor to investigate the "Biden crime family" on his first day in office if he regains the White House.
Despite the legal quagmire in which Trump is engulfed, he and Biden would face a close race if a rematch of the 2020 vote were held today, with a New York Times/Siena College poll released last week finding 43% of respondents supported each candidate. Both continue to far outstrip their rivals in their respective primary polls, even as voters rated both their unfavorables significantly higher than their favorables in an Economist-YouGov poll earlier this week.
While Trump's indictments have seemingly galvanized his supporters, Biden's approval rating continues to languish at record lows, an IBD/TIPP poll published this week found. Just 38% of Americans said they approved of the incumbent's performance, and even among his own party his support lagged at 65%, with respondents citing concerns about inflation, sluggish or nonexistent wage growth, and surging gas prices to explain their rating. A poll conducted in May found nearly two thirds of respondents thought Biden was not mentally fit to serve a second term.
You can share this story on social media: