US prosecutors propose Trump trial date
The January start date would likely interfere with the first major event in the former president's electoral campaign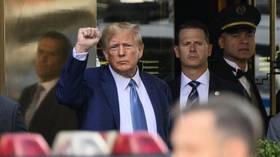 US Special Counsel Jack Smith's office has asked a Washington, DC court to begin the criminal trial of former president Donald Trump on January 2. Smith maintains that this will give Trump's legal team enough time to prepare, while Trump insists that Smith is "deranged" and "trying to infringe" on his campaign.
In a three-page filing submitted on Thursday, Smith's office requested that jury selection begin on December 11, followed by the trial three weeks later. This proposed schedule "serves the public's interest and the interests of justice, while also protecting the defendant's rights and ability to prepare for trial," the filing read.
In the filing, Smith's team estimated that it would take them between four and six weeks to present their case against the former president. If the court agrees to Smith's dates, this process would see the trial overlap with the Iowa caucuses, during which Republicans in the state will choose their preferred candidate for president in the 2024 election.
Trump has previously denounced Smith as "deranged" and claimed that the case is an attempt by President Joe Biden's Justice Department to take out the incumbent president's most formidable political rival.
"My Political Opponent is going CRAZY trying to infringe on my Campaign for President," Trump wrote on his Truth Social platform earlier on Thursday. "These are DARK DAYS IN AMERICA!"
Smith charged Trump earlier this month with conspiracy to defraud the United States, conspiracy to obstruct an official proceeding, obstruction of and attempt to obstruct an official proceeding, and conspiracy against rights. The charges stem from Trump's alleged efforts to stop the certification of Biden's victory in the 2020 election, which culminated in the riot on Capitol Hill on January 6, 2021, in which one of Trump's supporters was shot dead by a police officer.
Trump pleaded not guilty to all four charges last week, and told his supporters that, if elected, he would have Biden investigated for his alleged "crooked acts, including bribes from China and many other foreign countries that go into the coffers of the Biden crime family."
Smith also indicted Trump in June for his alleged mishandling of classified documents, hitting the former president with 32 counts under the Espionage Act, one for each document he supposedly removed from the White House. Trump has pleaded not guilty, and in a speech to supporters shortly after the indictment, called the Justice Department and FBI – who raided his Florida estate to find the documents – "cowards," "fascists," and "thugs."
You can share this story on social media: