Trump pushes back on proposed gag order
The US Justice Department is seeking to bar the ex-president from disclosing evidence obtained from the government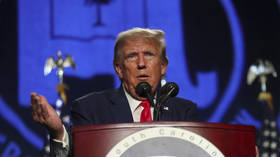 Lawyers for former US President Donald Trump have challenged a protective order requested by prosecutors on his election interference case, insisting that only "genuinely sensitive" material should be kept from the public eye.
Trump's legal team responded to the proposed order in a court filing on Monday, saying that any attempt to prohibit the defense from publicly discussing material obtained from the government, including "exculpatory documents," would violate Trump's constitutional rights.
"In a trial about First Amendment rights, the government seeks to restrict First Amendment rights," the attorneys said. "Worse, it does so against its administration's primary political opponent, during an election season in which the administration, prominent party members, and media allies have campaigned on the indictment and proliferated its false allegations."
The filing went on to accuse special counsel Jack Smith, who is leading the election interference case against Trump, of seeking to use the court as a "censor" to impose "content-based regulations" on the former commander in chief, instead calling for a "more measured approach."
The defense lawyers suggested an amended protective order that would "shield only genuinely sensitive materials," rather than "all documents produced by the government, regardless of sensitivity," as proposed by the prosecution.
Though the attorneys noted they had reached a deal with prosecutors on a "small number" of revisions to the order, they said the government would be unlikely to agree to their full proposal, citing communications with Smith's team. That leaves the matter to Judge Tanya Chutkan, who will decide on the order sometime before the next hearing scheduled on August 28.
Trump was indicted last week on multiple criminal charges linked to alleged interference in the 2020 election, to which he has pleaded not guilty. The ex-president has slammed the case as politically motivated, claiming he was unfairly targeted to remove him as a contender in the 2024 presidential race.
"How can my corrupt political opponent put me on trial(s) during a campaign that I am winning (by a lot!)," Trump said in an all-caps social media post on Monday, apparently referring to President Joe Biden. He added that the legal proceedings are "forcing me to spend time and money away from the 'campaign trial' in order to fight bogus accusations."
In addition to the latest case, Trump also faces two other criminal lawsuits launched earlier this year, including dozens of felony charges related to his alleged mishandling of classified documents after leaving office, as well as another linked to alleged hush-money payments made to porn actress Stormy Daniels during his 2016 campaign. He has pleaded not guilty in those cases as well, insisting the charges are part of a "witch hunt" against him.
You can share this story on social media: