Donald Trump vows to prosecute Biden if elected
The former US president says his 'corrupt' successor will be brought to justice under his administration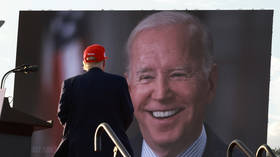 US Republican presidential frontrunner Donald Trump told an audience in Alabama on Friday that he will appoint a special prosecutor to investigate potential illegality perpetrated by the "Biden crime family" on his first day in office, if he reclaims the White House in 2024.
Trump, who has been indicted three times in the past four months amid a range of criminal investigations into his conduct, told the crowd at a fundraising event in Montgomery: "On Election Day 2024, we are going to evict crooked Joe Biden from the White House. We are going to expel the criminals and thugs from the halls of power in Washington."
The former US president added that a special prosecutor would be appointed on his "first day in office," who would "study each and every of the main claims being brought forth by Congress concerning all the crooked acts, including bribes from China and many other foreign countries that go into the coffers of the Biden crime family."
Trump was speaking just a day after pleading not guilty to various charges, including conspiracy to defraud the United States, brought by Special Counsel Jack Smith as part of an investigation into the circumstances surrounding the January 6, 2021 riots at the US Capitol in Washington, DC.
The 77-year-old also faces simultaneous probes related to allegations that he deliberately withheld classified documents at his Florida estate, and obstructed government efforts to recover them. He is also involved in another case brought by Manhattan District Attorney Alvin Bragg related to financial fraud and falsifying business records. He denies all claims of wrongdoing.
Trump, whom polling suggests is the clear frontrunner to claim the Republican Party's presidential nomination next year, told the Montgomery crowd that the "fake charges" being brought against him amounted to "election interference."
"The reason this is happening is simple," Trump said. "Joe Biden is the most incompetent and corrupt president in US history."
Trump didn't elaborate on his claims of criminal activity by the Bidens but they are thought to be linked to allegations that Joe Biden and his son Hunter improperly profited from an association with Ukrainian natural gas company Burisma Holdings. The Bidens deny allegations of illegality linked to Ukraine, as well allegations of improper ties to China.
Hunter Biden is also currently involved in court proceedings, including allegations of tax fraud.
And if he returns to the Oval Office, Trump was clear on what he believes must be done: "The tables must turn, and we will destroy the Deep State."
You can share this story on social media: