Nearly half of UK children regressed developmentally under lockdown – study
The damage was worse if their parents' employment situation changed during the pandemic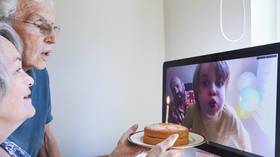 Nearly half – 47% – of British parents surveyed say their children experienced a decline in social and emotional development during the Covid-19 lockdown, according to a study published by the Institute of Fiscal Studies on Tuesday.
More than half of those with children aged between four and seven – 52% – said their offspring suffered a regression in development, while 42% of parents with 12-15-year-olds said the same. Parents of girls were more likely to report a regression than parents of boys.
Just one in six parents saw their children experiencing fewer challenges than before the lockdown, according to the report.
Parents whose employment situation changed – even those who were furloughed and not completely cut off from economic support – were much more likely to report social and emotional regression in their children. Children whose parents were furloughed were "significantly more likely to experience a worsening of their socio-emotional skills than those whose parents had not been furloughed," according to the study – 51% versus 45%.
The group polled 6,095 parents with children aged four to 16 about their experiences during the first year of the pandemic, asking how often the child seemed worried or easily scared, lost confidence, was constantly fidgeting or squirming, had tantrums, or displayed other negative behaviors in February 2021 versus in February 2020, before the UK instituted its Covid-19 lockdown.
The study notes that unlike in other lockdown surveys that limited their coverage to lost academic learning, there was no evidence that children in disadvantaged families fared worse during the pandemic than children in wealthier families and suggests "parental job instability," rather than simply poverty, was the primary driver of the negative impact lockdowns had on children's development.
"During the COVID-19 pandemic, children from all backgrounds saw their social and emotional skills worsen considerably," IFS research economist Andrew McKendrick said in a press release announcing the findings, noting that in addition to "school closures, lack of contact with friends and family, and potentially devastating severe illness or death among loved ones…another important driver of children's declining skills was the economic disruptions experienced by their parents, whether or not those disruptions led to a large income loss."
The research confirms the findings of Ofsted chief inspector Amanda Spielman, who found last year that an increasing number of young children were unable to understand facial expressions or even use the toilet by themselves compared to before the pandemic.
You can share this story on social media: