Pentagon security suffers 'critical compromise' – media
An engineer reportedly gained access to the communications systems of 17 US military bases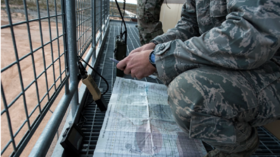 The US Department of Defense is examining how an engineer at an Air Force base in Tennessee managed to steal $90,000 worth of radio equipment and penetrate the networks of 17 Pentagon facilities, Forbes reported on Saturday. The suspect also reportedly accessed FBI communications.
The government received a tip from a contractor at Arnold Air Force Base in Tennessee, who alleged that a 48-year-old engineer at the facility had been taking government radio technology home for his own use, Forbes reported, citing a search warrant.
When law enforcement raided the man's home, they discovered that he had "unauthorized administrator access" to the communications infrastructure of 17 military installations, and was running Motorola radio programming software on his computer, giving him access to "the entire Arnold Air Force Base communications system," the warrant reportedly stated.
A forensics report on items seized from the engineer's house reportedly revealed that he had flash drives containing passwords for the Air Force's Training and Education Command's radio network, "local law enforcement radio programming files," and "Motorola radio programming files" which displayed a warning that they were US government property when opened.
The report also claimed that the man had possible access to the communications of the FBI and several Tennessee state agencies, without elaborating further.
Forbes withheld the man's name, as he had not been charged by the time the article was published. Investigators are reportedly treating the incident as a "critical compromise" of security, according to the warrant.
The incident comes three months after hundreds of Pentagon documents were leaked onto a gaming server, allegedly by a US Air National Guardsman based in Massachusetts. The documents revealed the presence of US special forces in Ukraine, the inadequacies of the Ukrainian military as it prepared for its counteroffensive against Russian forces, and the US' spying on its allies throughout the conflict.
The alleged leaker, Jack Teixeira, was charged last month with six counts of retaining and transmitting classified information. If found guilty, he faces a maximum penalty of 10 years in prison on each count.
You can share this story on social media: