Hunter Biden art patron is White House insider – media
A political appointee who donated to President Biden's campaign reportedly bought his son's artwork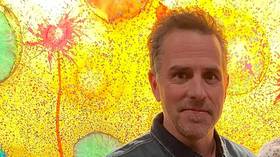 US media reports have revealed that one of the patrons who helped Joe Biden's son rake in $1.3 million for his novice paintings was a major Democratic Party donor who visited the White House more than a dozen times and was appointed by the president to a prestigious art commission.
Elizabeth Hirsh Naftali, a Los Angeles real estate investor who contributed more than $200,000 to Joe Biden's 2020 presidential campaign, was among the buyers of Hunter Biden's artwork, Business Insider reported on Tuesday. The outlet said it was not clear whether her purchase was made before or after President Biden appointed her to the Commission for the Preservation of America's Heritage Abroad in July 2022.
Hunter Biden's art sales have generated at least $1.3 million in proceeds since his debut in 2021, a remarkable haul for a fledgling artist with no formal training.
The White House claimed that buyers would not be able to gain political influence by paying exorbitant prices for Hunter Biden's paintings because neither the artist nor his father's administration would ever learn of their identities. "We believe this is a reasonable system that has been established that allows for Hunter Biden to work in his profession within appropriate safeguards," then-White House Press Secretary Jen Psaki told reporters in July 2021.
However the painter learned the identities of at least two buyers, including Hirsh Naftali and Los Angeles lawyer Kevin Morris, Business Insider has reported, citing three people familiar with the matter.
Around that same time, Walter Shaub, who served as ethics chief in the Obama-Biden administration, claimed that it was "absolutely appalling" for Hunter Biden to suddenly market his paintings after his father became president. "This is a guy who has clearly endeavored to make money off his dad being a politician rather than carving out his own path," Shaub said.
The Biden family has been caught up in influence-peddling allegations, which came to light in October 2021, when the New York Post obtained a copy of the hard drive from a laptop computer abandoned by Hunter Biden at a Delaware repair shop.
House Speaker Kevin McCarthy, a Republican from California, told Fox News on Monday that emerging evidence on the business dealings of Biden family members were "rising to the level of impeachment inquiry."
Devon Archer, a former Biden family business partner, will reportedly testify that then-Vice President Biden joined in Hunter Biden's calls with overseas associates dozens of times.
Hirsh Naftali donated more than $13,000 to Joe Biden's re-election campaign and gave $29,700 to Democrat congressional candidates in 2022, according to Business Insider. She also hosted a fundraiser last year featuring Vice President Kamala Harris. Fox reports claim she has visited the White House at least 13 times since Biden became president, including several one-on-one meetings with high-level aides.
The largest single buyer of Hunter Biden's artwork, who has not been publicly identified, purchased 11 paintings for a combined $875,000. Media outlets have referred to Morris as Hunter Biden's "sugar brother" lawyer who reportedly loaned Hunter Biden around $2 million to pay off back taxes and avoid felony penalties under a settlement with federal prosecutors.
Morris also let the president's son use his private jet to fly to and from an Arkansas courthouse for hearings in a child support case concerning the daughter he fathered with a former stripper. Fox reported that Morris was spotted smoking from a bong on the balcony of his Malibu home during Hunter Biden's visit to the mansion last week.
You can share this story on social media: