US halts funding to Wuhan lab
The Chinese facility has been at the center of claims that it was the source of Covid-19, despite a lack of proof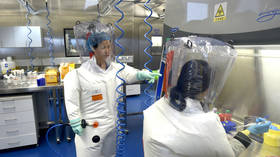 The US Department of Health and Human Services has suspended all funding to the Wuhan Institute of Virology with an eye toward permanently defunding the lab, a HHS spokesperson confirmed on Tuesday. The facility has been accused by many in Washington of unleashing Covid-19 on the world, despite a lack of proof thereof.
The move is aimed at ensuring the institute "does not receive another dollar of federal funding," the spokesperson said in a statement, citing the lab's alleged failure to provide information requested by the National Institutes of Health relating to issues of compliance with US biosafety protocols.
Suspending the institute's funding was "necessary to mitigate any potential public health risk," a HHS official wrote in the agency's memo regarding the funding cut.
The institute was notified on Monday of the suspension, which will make it ineligible for future federal grants and contracts, and prohibits it from conducting any business with the US. A ten-month investigation by the HHS found the lab was "not compliant with federal regulations and is not presently responsible."
The institute has received no money from the NIH since July 2020, according to the HHS. It has not issued a public response but may contest the suspension and debarment. Beijing has repeatedly denied the facility was the source of the Covid-19 outbreak.
House Republicans, many of whom believe the lab's research on bat coronaviruses was the source of Covid-19, excoriated the Biden administration for dragging its feet on the decision. Congress had voted to ban further funding to the institute last July.
"They deserve no credit for finally doing what the evidence and facts demanded. It is outrageous that it took them so long. HHS must now consider a similar debarment for EcoHealth Alliance," House Energy and Commerce Committee chair Cathy McMorris told reporters on Wednesday.
EcoHealth Alliance partnered with the Wuhan lab to conduct controversial "gain-of-function" research into making bat coronaviruses more infectious – research that was at the time illegal in the US. It then attempted to conceal the nature of that research from the public, though its president, Peter Daszak, has denied the research in question constituted gain-of-function or posed a danger to humans.
Congressional Republicans concluded in an October report that "substantial evidence" pointed to a lab leak at the Wuhan facility as the source of SARS-CoV-2, the virus responsible for Covid-19. A US intelligence report released last month merely alluded to safety issues with the lab while acknowledging there was no evidence to suggest it was the source of the virus.
You can share this story on social media: