Kissinger warns US and China against conflict
The veteran diplomat has visited Beijing in an attempt to defuse tensions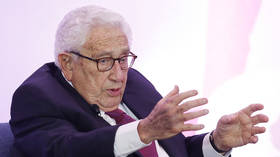 Former US Secretary of State Henry Kissinger has called for Washington and Beijing to find a way to coexist peacefully. The 100-year-old diplomat traveled to China to meet with Defense Minister Li Shangfu on Tuesday.
"The United States and China should eliminate misunderstandings, coexist peacefully and avoid confrontation. History and practice have continually proved that neither the United States nor China can afford to treat the other as an adversary," the Xinhua news agency quoted Kissinger as saying after the meeting.
Kissinger urged both sides to "be wise" and work together, making every effort to improve relations and "and maintain peace and stability throughout the world."
Li described the relations between China and the US as "hovering at a low point since the establishment of diplomatic relations" because "some people on the US side have failed to move in the same direction as the Chinese side."
China remains committed to "building stable, predictable and constructive" relations with the US along the lines of President Xi Jinping's "three principles" formula of mutual respect, peaceful coexistence, and win-win cooperation, Li said.
Kissinger, who recently turned 100, served as secretary of state (1973-1977) and national security advisor (1969-1975) to presidents Richard Nixon and Gerald Ford. He played a major role in the talks to end the Vietnam War, as well as the normalization of relations with Beijing in the 1970s, with an eye to pitting China against the Soviet Union during the Cold War. His trip to Beijing follows visits by several senior US officials, from Secretary of State Antony Blinken to Treasury Secretary Janet Yellen.
President Joe Biden's administration has repeatedly said it does not seek "confrontation" with China, while sending weapons to the disputed island of Taiwan and strengthening military alliances in the Asia-Pacific with Australia, Japan, and South Korea.
Last week at the summit in Vilnius, NATO accused China of pursuing "coercive policies" that somehow threatened the US-led bloc's interests all the way in Europe. Beijing has denounced the NATO statement as "slander" and a "smear," accusing the bloc of remaining trapped in a Cold War mentality.
You can share this story on social media: