NATO adopts new anti-Russia defense plan
The US-led military bloc's new posture involves a massive increase in rapid reaction forces and more heavy weapon procurement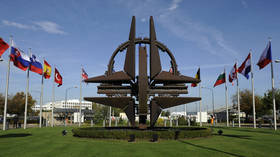 NATO passed a new defense plan at the Vilnius summit on Tuesday. The whopping 4,400-page document details the defense of critical locations in case of "an emergency" and lists a potential attack by Russia as one of the biggest threats, according to German media. The bloc's secretary general, Jens Stoltenberg has welcomed what he called "the most comprehensive defense plans since the end of the Cold War."
The document addresses two "main threats – Russia and terrorism," and accuses the former of being "the greatest and most immediate threat to the security of allies and to peace and stability in the Euro-Atlantic region," according to Germany's Bild tabloid.
German Chancellor Olaf Scholz also called on his country and the other NATO members to "arm ourselves against a threat to our territory," Bild added. The new plan also lists the military capabilities the bloc's members must demonstrate, including new member Finland and applicant, Sweden.
The document reportedly claims a "violent" and "revisionist" Russia could potentially attack NATO territory. "We recognized that we could indeed be faced with an Article 5 situation again, in which part of NATO territory is under direct attack," a military bloc official told German news agency, dpa.
To counter the supposed 'Russian threat,' the bloc plans to massively increase its Response Force (NRF) from the current 40,000 troops to over 300,000, comprising land, sea and air units, as well as rapidly deployed Special Forces.
The bloc also plans to significantly increase weapons production and stockpiling. The new strategy includes a "new Defense Production Action Plan to accelerate joint procurement, boost production capacity, and enhance Allies' interoperability," the NATO statement said.
According to Bild, the bloc would seek to build up armored "heavy forces," and deploy more long-range artillery systems and missiles, as well as air defense systems.
NATO also plans to enhance what it calls 'deterrence measures' by sending additional forces to the Baltics and Eastern Europe. Battlegroups comprising 1,000 soldiers are to support the national armies of the Baltic States and Poland, Bild reported, citing the document.
The UK will be responsible for Estonia, Canada for Latvia, Germany for Lithuania, and the US for Poland, the German media outlet said. Berlin also plans to station a brigade of 4,000 soldiers in Lithuania, according to the German media.
Germany is also reportedly expected to serve as the NATO logistics hub in case of a major conflict. The bloc is also considering establishing a second Land Command, in addition to the existing station in Türkiye's Izmir. Wiesbaden in Germany is being considered as a potential location since it already hosts a large US base, Bild reported.
Russia repeatedly stated that it considers NATO's buildup on its borders as well as the bloc's expansion to the east a threat to its national security. It also named preventing Ukraine from joining the bloc among the main reasons for launching its military operation in the neighboring country in February 2022.
You can share this story on social media: