NATO suffering delusions of grandeur – Lavrov
The top Russian diplomat has accused the military bloc of attempting to undermine Moscow's relations with Beijing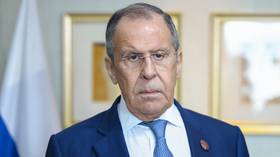 The US and its allies are targeting Russia and China because of their strong relationship, Russian Foreign Minister Sergey Lavrov has claimed, citing the final communique from this week's NATO summit in Lithuania.
The NATO document stated that "the deepening strategic partnership between [China] and Russia and their mutually reinforcing attempts to undercut the rules-based international order run counter to our values and interests."
Commenting on Thursday during a trip to Indonesia, Lavrov said that "apparently, we are not even allowed now to have a relationship [with China], or so they wish." The diplomat noted that the US had previously limited itself to referring to Russia and China as its "rivals."
The NATO statement further justifies Russia's efforts to oppose "modern forms of colonialism" and to advocate international relations based on respect, Lavrov insisted.
"People in NATO are obviously not prepared for [the same approach]. Delusion of grandeur is expressed in all actions of the NATO leadership, as well as member states, frankly speaking. Everybody sees that," the Russian minister claimed.
Lavrov accused the West of attempting to preserve its hegemony and dress it up as a "rules-based order," but predicted that multipolarity would ultimately prevail.
He also alleged that NATO's appetite for spreading its influence globally was causing destabilization outside of the North Atlantic region. "They already have plans to build up NATO military infrastructure in the [Asia-Pacific] region, including in the nations that were invited to the summit in Vilnius… I mean Australia, New Zealand, Japan, [South] Korea," said the minister.
Canberra violated its own commitment to keeping the Pacific free from nuclear weapons when it agreed to host "elements of infrastructure" related to nuclear arms under the AUKUS arrangement, Lavrov argued. Tokyo and Seoul "have been signaling that they would not oppose stationing American nuclear weapons or obtaining some of their own," he added.
The Russian foreign minister was speaking in Indonesia after a summit with ASEAN, a regional integration bloc. He claimed the US was pushing for the Southeast Asian organization to be replaced by structures under Washington's control, so that it could undermine China.
You can share this story on social media: