Moscow mulls plan to display destroyed Western hardware outside embassies
The idea is being considered by parliament and the Defense Ministry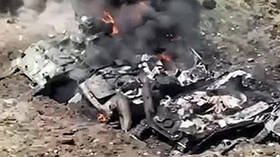 Moscow could place destroyed military hardware on display outside the embassies of Western nations that supplied it to Ukraine. The idea was floated in Russia's lower house of parliament, the State Duma, on Wednesday.
Duma Speaker Vyacheslav Volodin has tasked the parliament's Defense Committee with discussing the idea with the Defense Ministry to iron out the details of potential 'exhibitions'.
"The proposal to place burned [military] hardware near the embassies of those countries that send it to Ukraine is particularly interesting," Volodin stated.
The idea is reminiscent of actions by Ukraine, which has set up a permanent exhibition in Kiev of destroyed military hardware, which it claims to be Russian. Ukraine also sent burnt-out tanks on tour across multiple European cities, including the German capital Berlin.
The latter efforts appeared to backfire spectacularly, with the displays wrapping up ahead of schedule after locals repeatedly brought flowers to the tanks.
Ukraine has reportedly sustained heavy losses in Western-supplied equipment in the past month. Multiple US-made Bradley infantry fighting vehicles and M113 armored personnel carriers have been destroyed, as well as their Dutch-produced modification, the YPR-765, and German-made Leopard 2 tanks. The losses came as Kiev launched its long-heralded counteroffensive in early June. According to Moscow, the operation has failed to achieve any major gains.
Russia has repeatedly called on the West to stop "pumping" Ukraine with assorted weaponry, warning it would only prolong the hostilities rather than change their ultimate outcome. Senior officials in Moscow have also insisted that supplying Kiev with increasingly sophisticated weaponry heightens the risk of a direct conflict between Russia and NATO.
You can share this story on social media: