US Republicans blast colleague's Ukraine proposal
Lawmakers have criticized a resolution by Senator Lindsey Graham that pushes for Kiev's admittance to the bloc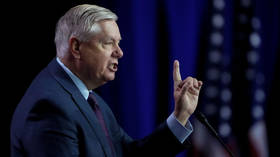 Conservatives in both houses of the US Congress have rebuked their colleague Senator Lindsey Graham (R-South Carolina) for pushing to get Ukraine admitted to NATO, saying such an expansion of the Western military bloc would make Americans less safe by triggering a direct war with Russia.
At issue is a resolution by Graham that presses for allowing Ukraine to join the alliance. The 68-year-old Republican claimed on Friday to have bipartisan support for his proposal, saying, "Ukrainian NATO membership is vital to the future security of Europe and the world. I believe there is an overwhelming majority of senators supporting this proposition."
Senator Rand Paul (R-Kentucky) was among the lawmakers who did not provide such support. "Absolutely not," he said on Friday in a Twitter post. "This is exactly wrong – as usual – and could very well lead us to war with Russia, something no one should want."
Representative Marjorie Taylor Greene (R-Georgia) agreed, saying, "This is madness. Everyone in Washington should be urging peace and stopping the war in Ukraine, not bringing us to the brink of World War III."
Another congresswoman, Lauren Boebert (R-Colorado), said admitting Kiev to NATO "would mean American troops on the ground in Ukraine. The American people would not stand by and allow our troops to go die in someone else's war."
Representative Thomas Massie (R-Kentucky) said expanding NATO was contrary to US interests. He called the bloc a "Cold War relic," adding that past expansions of the group led to the rise of Russian President Vladimir Putin and the conflict in Ukraine.
Republican presidential candidate Vivek Ramaswamy called Graham's proposal "shameful" and argued that President Joe Biden "needs to man up to his bully-friend," Ukrainian leader Vladimir Zelensky, by making clear that Kiev will not be allowed to join the alliance. He said NATO had made nuclear war with Russia more likely by breaking a US promise not to expand the bloc after the Soviet Union's collapse.
"As president, I'll refuse to be bullied by an anti-democratic comedian-turned-leader, and it's truly mystifying to me that the rest of the West is eating out of this Pied Piper's hand every day," Ramaswamy said on Saturday.
The US controversy comes as NATO member states prepare to gather in Vilnius this week for talks on the Ukraine conflict. The bloc's secretary-general, Jens Stoltenberg, predicted on Friday that NATO would reach a consensus on how to bring Ukraine closer to joining the group.
However, German officials reportedly oppose giving Kiev any guarantees because they want to avoid a direct confrontation with Russia. Biden has acknowledged that adding Ukraine to NATO while fighting is ongoing would mean war with Moscow. "I don't think there is unanimity in NATO about whether or not to bring Ukraine into the NATO family now, at this moment, in the middle of a war," he said in a CNN interview.
Zelensky demanded earlier this month that Ukraine be given an official invitation to join NATO when the current conflict ends.
You can share this story on social media: