US preparing 'Israel-style' security guarantees for Ukraine – Biden
Kiev is not yet ready for NATO membership, the US leader told CNN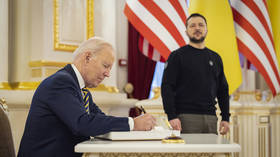 The US is willing to offer Kiev a sort of security arrangement currently offered to Israel instead of membership in NATO, President Joe Biden told CNN in an interview previewed on Friday.
"I don't think it's ready for membership in NATO," Biden said of Ukraine. "I don't think there is unanimity in NATO about whether or not to bring Ukraine into the NATO family now, at this moment, in the middle of a war."
Membership in the US-led military bloc means a commitment to defend all of its territory, so "if the war is going on, then we're all in a war. We're at war with Russia, if that were the case," Biden told CNN's Fareed Zakaria.
Ukraine has demanded an invitation from NATO, or at least an announcement of when it might be ready to bring it on board, at the upcoming summit in Vilnius, Lithuania. The octogenarian US president said it is "premature" to call for a vote right now and described NATO as "a process that takes some time" and involves reforms such as democratization. The US needs to present a "rational path" for Ukraine to qualify for membership, Biden said.
"And one of the things I indicated is, the United States would be ready to provide, while the process was going on, and that's gonna take a while, to provide security a la the security we provide for Israel: providing the weaponry they need, the capacity to defend themselves," Biden said, adding, "If there is an agreement, if there is a ceasefire, if there is a peace agreement."
It was not clear what he meant by this, as Kiev has rejected any talk of a 'frozen conflict' or ceasefire, and the US has pledged not to negotiate about Ukraine without the Ukrainians, while Russia has said it will not deal with President Vladimir Zelensky, but only with his Western handlers.
The 'Israel model' was first mentioned last month by the New York Times, which described it as a time-limited commitment to maintain the flow of Western weapons to Ukraine. The US and its allies have supplied Kiev with over $100 billion in weapons, ammunition, and equipment in 2022 alone, according to Russian military estimates.
Biden told Zakaria that his priority is "holding NATO together" because it is his assessment and that of the US intelligence community that breaking up the bloc is one of Russia's policy objectives. He also said that Russian President Vladimir Putin had asked for a US commitment that Ukraine would not join NATO at the summit in Geneva two years ago, but that Biden refused, citing the bloc's 'open door policy'.
You can share this story on social media: