Toxic 'forever chemicals' found in nearly half of US drinking water – study
Chemicals known as PFAS can cause decreased fertility, developmental issues, cancer, and hormone disruptions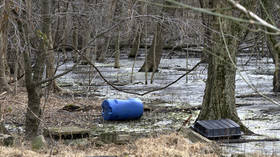 Nearly half – 45% – of all US tap water contains at least one of a class of toxic endocrine-disrupting chemicals known as polyfluorinated alkyl substances (PFAS), according to a report from the US Geological Survey published Wednesday.
Called "forever chemicals" because they take a very long time to break down, the substances are even more likely to be found in and near cities, with 75% of urban samples containing at least one PFAS. Just 25% of rural areas were likewise contaminated, according to the study, while contamination levels were similar between public and private water supplies.
All measured levels of PFAS compounds were found to be above the health advisory levels set by the Environmental Protection Agency.
While USGS sampled tap water drawn from 716 different kitchen sinks for the presence of 32 different PFAS, the agency acknowledged that there were over 12,000 types and many cannot be detected with existing tests – meaning the problem is likely even worse than its report suggests.
Used to make nonstick pans, fire extinguisher foam, grease-resistant food wrappings, and other common household items, PFAS have dwindled in popularity as the public has become aware of their links to chronic and deadly conditions. This awareness of the harms caused by forever chemicals arrived decades after the chemicals' producers had learned their products were both leaching into groundwater and bio-accumulating in humans.
PFAS are known to wreak medical havoc on human and animal bodies, with links to decreased fertility, developmental problems in children, cancer, high cholesterol, liver and kidney disease, and endocrine (hormone) disruption. Because they do not break down, they bio-accumulate, meaning each successive generation carries more of them in their tissues. The vast majority of Americans' bloodstreams are contaminated by forever chemicals.
Despite the evidence, PFAS manufacturers like DuPont and 3M have categorically denied their products cause harm to people. Because these companies spend millions on lobbying Congress, initiatives to ban them, like the one that passed the House in 2021, have fallen short of becoming law, aside from a handful of exceptions in states like Maine.
In November, California sued 18 manufacturers of PFAS, alleging they had been aware their products were "toxic and harmful to human health and the environment" but opted to hide that from their customers. While 3M, Chemours, DuPont, and Corteva all reached settlements this year of $1 billion or more regarding their knowledge of the health effects of PFAS, the settlements were structured so as not to include an admission of liability. However, 3M has pledged to stop producing PFAS by the end of 2025.
You can share this story on social media: