NBC 'spreading disinfo' on Ukraine talks – Moscow
The report of "secret" peace talks is fake news, the Russian Foreign Ministry has claimed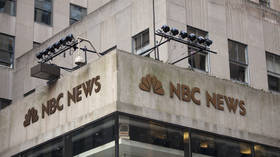 An NBC News report claiming that a group of former US officials have been in "secret talks" with Moscow is not accurate, Russian Foreign Ministry spokeswoman Maria Zakharova stated on Thursday.
"Fake [news]" and "disinformation spread by Western media," Zakharova wrote on Telegram, next to a crossed-out bulletin summarizing the NBC story.
According to the US outlet, a group of former American national security officials have been conducting "track two" negotiations – with the White House's knowledge but not on its instructions – with "prominent Russians believed to be close to the Kremlin" for the past several months.
Moreover, at least one former US official has traveled to Russia "for discussions involving the Ukraine war," according to two of NBC's sources. The network cited two current and four former US officials, all anonymously.
NBC named four of the Americans engaging in so-called 'secret diplomacy' as former Pentagon official Mary Beth Long and three Council of Foreign Relations (CFR) officials: Richard Haass, Charles Kupchan and Thomas Graham. The latter were said to have met with Russian Foreign Minister Sergey Lavrov in New York "for several hours" back in April.
In addition to the alleged meeting with Lavrov, the Americans supposedly had talks with "academics, leaders from major think tanks or research institutes and others in the Russian foreign policy sphere perceived as having President Vladimir Putin's ear or being in regular touch with Kremlin decision-makers."
Lavrov was in New York on April 24-25, to chair a meeting of the UN Security Council. His published schedule does not mention an encounter with Graham, Haas and Kupchan.
The latter two authored an essay titled 'The West Needs a New Strategy in Ukraine', which NBC described as having been published in Foreign Affairs "around the same time" as their supposed meeting with Lavrov. However, its actual publication date was April 13, almost two weeks before the Russian foreign minister traveled to New York.
Washington has officially said it would not discuss Ukraine without the direct involvement of Ukrainians. Kiev insists the only "peace proposal" it is willing to discuss is a list of demands by President Vladimir Zelensky amounting to Russian capitulation. Moscow has rejected Zelensky's demands as delusional and said it had no intention of talking with him, only with those in the West who are pulling his strings.
You can share this story on social media: