French mayors urge 'mobilization' against nightly riots
The public overwhelmingly condemns the violence and backs a possible state of emergency, according to a poll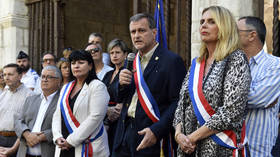 French mayors have called for a civic mobilization to uphold the rule of law, following six nights of turmoil over the police killing of a 17-year-old French-Algerian, while a poll shows strong public opposition to the rioters.
The national association of mayors urged citizens to gather at their local town halls on Monday at noon to show support for "a return to order in the republic." Government buildings have been targeted "with extreme violence" over the week, it said in a statement on Sunday.
According to France 24, dozens of people answered the call in the commune of L'Hay-les-Roses, whose elected head has been directly targeted. The home of Vincent Jeanbrun, the mayor of the Paris suburb, was rammed with a burning car on Sunday night. The official was not in the building at the time, but his wife and children were, and managed to escape while suffering injury.
The killing of Nahel M. during a traffic stop has unleashed a major crisis for President Emmanuel Macron, who has grappled with several waves of turmoil during his tenure. The Elysse Palace said it was considering imposing a nationwide state of emergency.
A survey conducted by the pollster Ifop for Le Figaro newspaper has shown wide public support for such a measure, with 69% of people in favor. A similar share of respondents expressed a negative attitude to the rioters.
However, opinion is more sharply split on the conduct of the police force, who have faced new accusations of racism after last Tuesday's deadly incident. The pollster found that 43% and 14% expressed trust and sympathy, respectively, towards officers, while 32% viewed them with concern or hostility.
A crowdfunding campaign, in support of the officer who fired the shot that led to the unrest, has accumulated more than €1 million euros ($1.09 million), with over 40,000 people contributing. The biggest donation, according to a media report, was €3,000 ($3,250).
The civil strife in France has come after months-long protests against a controversial pension reform. Labor organizations have staged strikes and demonstrations since January to oppose an increase in the retirement age, which was approved under a special procedure, without a vote in parliament.
You can share this story on social media: