China legalizes 'countermeasures' against the West
A new law will allow Beijing to react more strongly to sanctions and "interference"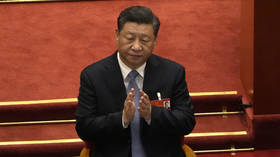 China has passed its first foreign relations law, granting President Xi Jinping's government the power "to take corresponding countermeasures" against Western acts that threaten Chinese national security.
The law was drafted late last year and approved by China's parliament on Wednesday, the state-run People's Daily reported. It comes into force on July 1.
The law is divided into six chapters, including ones formalizing Beijing's foreign policy objectives and enshrining existing diplomatic policy in the national legal system. However, the most significant chapter is one authorizing the government "to take necessary countermeasures… against acts that endanger China's sovereignty, security and development interests in violation of international law and fundamental norms governing international relations."
Chinese officials authored the law "amid new challenges in foreign relations, especially when China has been facing frequent external interference in its internal affairs under the Western hegemony," Beijing's Global Times reported, citing legal experts. It "provides a legal basis for the diplomatic struggle against sanctions, anti-intervention and long-arm jurisdiction," the state-run newspaper added.
China has faced a barrage of sanctions and other economic penalties from the US in recent months. Washington has imposed export controls on China's semiconductor industry and pressed its allies to exclude Beijing from semiconductor supply chains, blacklisted Chinese companies for allegedly supplying military technology to Russia, and sanctioned Chinese aerospace firms following a so-called spy balloon incident in February.
Beijing views such measures as an attempt by the US to bring about the "all-around containment, encirclement and suppression of China," Xi declared in March.
In the absence of any formal law, China responded to these moves in an ad-hoc fashion, countering US arms sales to Taiwan by sanctioning American weapons makers Lockheed Martin and Raytheon, and announcing a national security investigation into US chipmaker Micron in response to Washington's export controls on Chinese chip manufacturers.
China has also made the lifting of US sanctions a prerequisite before high-level military talks can restart.
Relations between Washignton and Beijing have nosedived since last year, when US President Joe Biden said on multiple occasions that he would use military force to prevent the reunification of Taiwan with mainland China. While Biden has since predicted an imminent "thaw," he strained relations further last week by calling Xi a "dictator" while his secretary of state, Antony Blinken, was returning from a meeting with the Chinese president in Beijing. China's embassy in Washington called the statement a "political provocation," but Blinken seconded Biden's opinion on Sunday, telling CBS News that the US president "speaks for all of us."
You can share this story on social media: